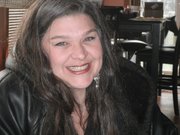 WHITE BIRD — It's hard to believe that this summer is flying by so fast. There are still so many things that I want to do before the kids have to go back to school. I've heard the phrase, "I need a day between Saturday and Sunday," but I need a month between July and August!
Well, I have some real news this week. We have had a minor setback with the process of turning our school into our new parks and recreation district. We had a slight error with the original petition. It's an easy fix, but it is imperative that we take care of it as soon as possible. All we need to do right now is sign the petition again. We will have a community meeting at the school this Friday, Aug. 1, at 6:30 pm. We will all have a chance to sit down and talk about what's going on and what it means to all of us. You will have a chance to ask questions and give your input and opinions about it. So I'm asking everyone who lives in the 83554 district to show up Friday so that you know what's going on and get your name on the petition. There has been a lot of work to make this possible for us and if we all work together, the outcome is going to be beautiful, not just for all of us, but for generations to come. There also have been a few people working hard at forming a black cloud over the situation and saying things about it that just aren't true. Show up at the meeting to hear the facts. If you can't make it to the community meeting on Friday, but you are in favor of turning the school into a place for all of us to use, stop by Canyon House and get your name on the petition. Since we have to present the petition again, there's no time to waste. So we'll see you Friday at 6:30 p.m. at the school. Bring your lawn chairs and we'll meet in the yard. This is our town! This is our school! This affects all of us! Be involved!
Well, that's all I'm going to write this week, so go ahead and reread it, just to make sure you got it. Hope everyone has a wonderful week! And I hope I see all of you at the school on Friday.
Happy birthday this week to Lasetta Taylor Montgomery, Emily Brown, Kobie Pils, Cressis Holes, Lorinda Norton, Rachel Minter, Janis Ann Comrie, Sandra Davis, Dave Mundt, Carol Cash, Mat Ellibee, Thomas Cullin, Dylan Roemer, Jeffrey Pineda, Brad Mundt and Susie Brust.\