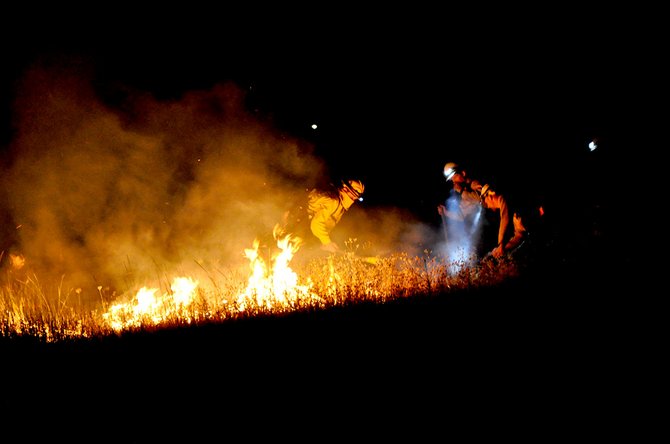 Photo by David Rauzi
Firefighters work to contain the White Bird Grade fire last Thursday night, July 24, just above U.S. Highway 95.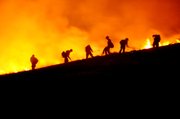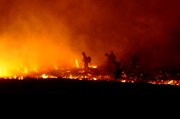 GRANGEVILLE – A small fire was found at Burn Creek on the Salmon River Ranger District at 2:50 p.m. last Monday, July 28, and brought under suppression by a 20-person initial attack crew and fire engine. As of Tuesday morning, firefighters were "removing heat and fire from the large logs and continuing to mop up hot spots and stump holes."
That's according to Grangeville Dispatch, which responded to two fires on July 26 and another one on July 27, stamping out a small fire at Siegel Creek (Red River Ranger District) as well as attacking one near Eagle Point Lookout (Northfork Ranger District) and another on the hillside by Clearwater River Casino in Lewiston. Six smokejumpers deployed to the Lewiston-area fire, which was reportedly contained at 2,500 acres last Saturday night. The Siegel Fire was contained at a quarter of an acre by Forest Service initial attackers and two Nez Perce Tribe engines.
The Eagle Fire was last estimated at one acre; response included helicopter-borne initial attackers and a seven-person hand crew. The fire was located in rugged terrain three miles from the nearest trail; no structures were threatened as of Saturday. It was reported contained at 1.75 acres as of Tuesday morning, July 29.
Smoke was reported in the hills above Syringa at 8 p.m. last Monday night, but no fire had been located by 9 a.m. Tuesday morning.
None of these fires were substantial enough to be listed on the federal Incident Information System webpage, inciweb.nwcg.gov, as of Tuesday morning.
•
White Bird blaze burns 92 acres
WHITE BIRD – Cause is undetermined on last week's grass fire that burned 92 acres on the south side of the White Bird summit. Investigation by Idaho Department of Lands (IDL) is under way.
No injuries were reported in the Thursday evening, July 24, fire, and no structures were involved.
The White Bird Grade Fire was reported around 7:30 p.m. east of U.S. Highway 95 across from the truck ramp at milepost 229. Interagency response to this IDL fire included three federal engines and three state engines and one Clearwater Potlatch Timber Protection Association (CPTPA) dozer, along with crews and equipment from Salmon River Rural Fire Department.
Fire containment was made early that Friday morning and put into patrol status Saturday afternoon, July 26.
LUCILE – Reported at 11:50 a.m. last Thursday, the Gold Rush fire near Lucile totaled three acres and declared contained at 12:45 p.m.
The Salmon River Rural Fire District was the first to respond; however, the fire was managed and contained by firefighters from Salmon River Ranger District. Fire crews were reinforced by air support. Air Attack provided eyes in the sky with reconnaissance flights over the area.
As a precautionary measure two Single Engine Air Tankers (SEAT) were ordered and one heavy helicopter. After one SEAT arrived at the fire and dropped a load of retardant, firefighters on the ground were able to contain the fire.