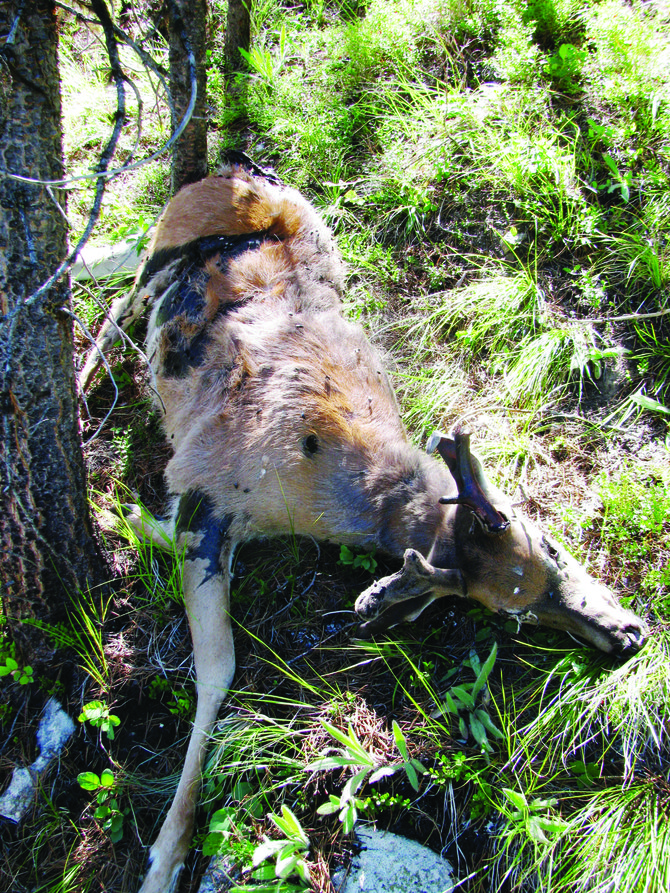 Contributed photo / George Fischer
Local Idaho Department of Fish and Game officers are pursuing the case of the wasted whitetail buck pictured above.
DIXIE — Someone picked the day the United States celebrates its freedom to mock another of the nation's great traditions: hunting.
And it wasn't the first time.
"It appears that annually, around the Fourth of July, marks the start of our Idaho 'drive by shooting season,'" Idaho Dept. of Fish and Game district conservation officer George Fischer said. "Wildlife of all species and sizes are shot and left to waste within sight of our roadways. The criminals doing this are few in number, but their aftermath is very visible. The hunting and non-hunting public is outraged by this shameful behavior and waste. Identified violators in the past tell us those involved in the practice cover many age groups and both genders. However, teenage males, to males in their twenties are the primary culprit."
Officers from the Idaho Department of Fish and Game are currently investigating a buck whitetail deer that had been shot and left to waste over the Independence Day weekend. This happened on the Dixie Road, halfway between Red River and Dixie.
During the early morning hours of July 7, three wood ducks were also shot and left to waste at Tommy Robinson Pond near Kamiah. A vehicle leaving the scene of the crime was black with orange markings.
Citizens Against Poaching (CAP) has posted a reward for information leading to the arrest of the person or persons responsible for these crimes. Callers can remain anonymous.
"Please don't tolerate the shooting and wasting of our wildlife from friends or family," Fischer said. "It's a terrible crime against every Idahoan."
Fischer requested: If you have any information about these incidents, contact CAP 1-800-632-5999, your local IDFG conservation officer or your nearest Idaho Fish and Game Regional Office.