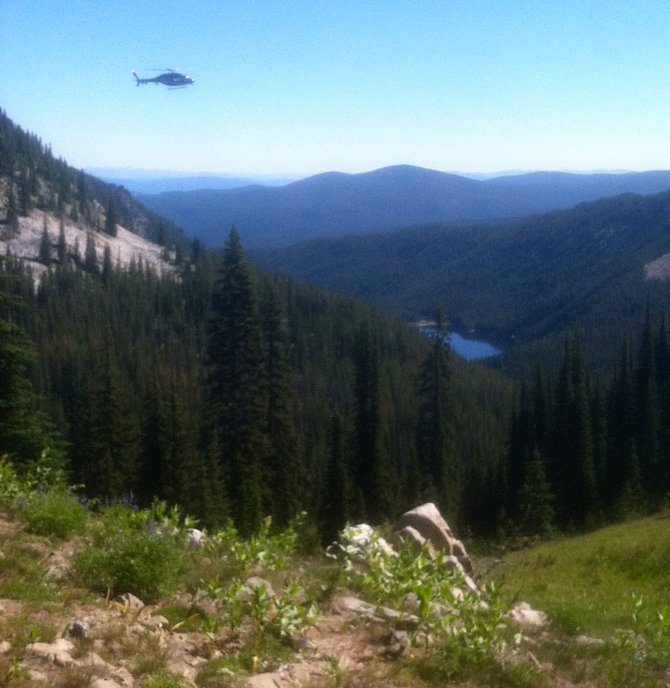 Contributed photo / Pete Zimosky
A search and rescue helicopter is pictured peering over Moores Lake during the search for Dr. Jared Pikus of Cottonwood, who was reported missing on Saturday night, July 26, and was found last Sunday afternoon by a search and rescue effort coordinated by the Idaho County Sheriff's Office.
GOSPEL HUMP – Just days after his famous sister visited the area, Dr. Jerad Pikus and three of his kids spent an unplanned night in wilderness.
Dr. Pikus told ABC News: "I came to a point where I didn't know where I was. At that time, I had to think about the kids and survival."
Olympian Noelle Pikus-Pace asked her nearly 22,000 Facebook followers for prayers on Sunday morning, July 27, after learning Dr. Pikus, 34, had not returned to Cottonwood as planned on Saturday. The Idaho County Sheriff's Office had already launched a search and rescue operation, which proved successful with help from a helicopter out of Whitefish, Mont.
In an interview with the Free Press after the print deadline, Dr. Pikus said he is "grateful to be around and thankful for all the prayers."
Trying to hike back up the hillside, Dr. Pikus said "we had sight of the lake, and then we didn't….We said some prayers and felt calm that night."
They slept under a raft that night. They saw the search helicopter, which "had the spotlight right on us," he said, "and I was waving the raft around, but they didn't see us, I guess."
Equipped for a night search, the helicopter found retired Idaho Statesman outdoors reporter Pete "Zimo" Zimowsky camping with his wife.
"We woke up at 3:30 a.m. with the helicopter coming down right on our camp," Zimowsky said. Zimo and his wife, Julie Hall, had seen the Pikus group near Moores Lake on Saturday. "We urged them to go out the main trail," Zimowsky said.
On Sunday morning, Dr. Pikus and his kids resumed their trek, emerging onto a road no worse for the wear than a few mosquito bites and scratches. After about 24 hours in the elements, Dr. Pikus and his kids were found north of Moores Lake.
Pikus-Pace, in a Sunday night Facebook post, said Dr. Pikus and the children had "asked another camper how to get back up to the road and were mis-directed."
Her post irritated Hall, who had spoken to Dr. Pikus at around 1:45 p.m. on Saturday.
When Dr. Pikus finished fishing, she said he asked her for the time and then for directions; Pikus intended to return to his vehicle by the same route he and the children came down. But she said he seemed unsure where to go to get back and did not have a map.
"The problem with the Gospel Hump is you go down to get where you're going," Hall said. "You can follow a drainage. But once you're down, there are several drainages and they look a lot alike."
Hall said she pointed out the main trail – the one she and Zimo followed 4.5 miles each direction to and from Moores Lake. She added that she and her husband each packed 20 pounds of gear – enough for an "easy two days" and a night out in the elements – as they've learned from 35-40 years of hiking experience.
"I would still plan on going back the same route we came in on," Dr. Pikus said. "God lives and he cares about us."
The search tapped Idaho County Sheriff's Search and Rescue, Grangeville City Police, Grangeville Mountain Rescue, Idaho County Sheriff's Posse, U.S. Forest Service, Idaho Dept. of Fish and Game personnel and the Montana-based Two Bear Air night search helicopter.