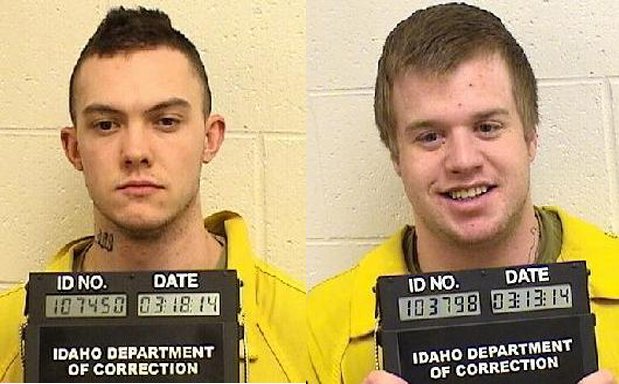 GRANGEVILLE – It's back to prison for two NICI escapees who last week earned themselves a minimum incarceration of two years for their flight last month from the Cottonwood facility.
At a July 21 District Court hearing, Dylan J. Ames and Tyler D. Davis, both 23, pleaded guilty to felony escape and were ordered to serve a minimum of two years and a maximum of five with the Idaho Department of Correction, and to pay $240.50 in court costs.
These 2-to-5-year sentences will be served consecutively (in addition to) to incarceration time ordered for the pair in their underlying cases: Ames had a 5-to-10-year sentence for convictions on possession of controlled substance charges out of Kootenai County, and Davis had a 2-to-5-year sentence on a grand theft conviction out of Ada County.
Ames and Davis were part of a group of about 20 inmates on June 4 who were helping unload a commissary truck outside NICI's front gate when they fled on foot. A subsequent search by NICI, city and county law enforcement personnel was unsuccessful. The evening of June 7, the pair was spotted in Clarkston, Wash., and taken into custody.
The last escape from NICI was Jan. 18; Ridge S. Dains, 21, and Caleb J. Thomas, 20, were captured in Walla Walla two days later. Action on escape charges against the pair is pending their completion of prison time in Washington State on unrelated charges.
At last week's hearing, Ames was represented by attorney Daren Fales, and Davis was represented by attorney Christopher Lamont. Idaho County Prosecutor Kirk MacGregor handled the case, presided over by District Judge Michael Griffin.