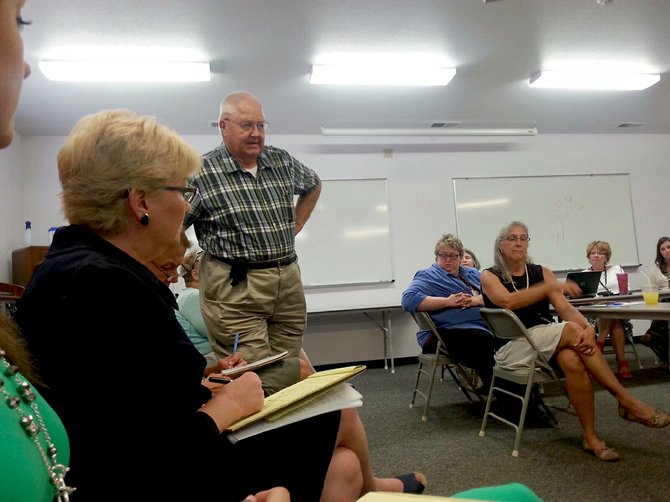 Photo by Lorie Palmer
Clyde Hanson was one of more than 25 audience members at the July 28 meeting of the Syringa Hospital board. Hanson spoke about the necessity for a helipad and referenced his more than 600 hours in the back country and his time as an EMT.
GRANGEVILLE – "This is very unusual for us to have this many guests – I have never seen this in my five years on the board," stated Dave Green, chair of Syringa Hospital board, at the regular meeting Monday, July 28. More than 40 people – including hospital administrators, board members and staff — attended the meeting.
When patron Jeff Kutner began to talk about the potential helipad planned for the Main Street lot adjoining Soltman Center (former Ernie's Steakhouse), trustee Al Bolden broke in.
"Chairman, I thought we decided to hold the helipad talk until spring," Bolden said.
"A lot of planning is under way and with the city requiring a conditional use permit, we are really just in the beginning discussion stages," agreed Green.
"Wouldn't you just want to discuss it and see what people are thinking?" asked Kutner. He continued with his concerns about the safety and feasibility of the helipad and then continued on with other hospital issues including the front entrance.
Kutner said he has not talked to anyone – aside from a couple who was indifferent — in favor of losing the green area for the new entrance.
"Wasn't that heated sidewalk recently installed? Why not canopy the walk?" he asked.
Board member Twila Hornbeck said the engineer and ITD were concerned with the current safety of patients as they have to make their entrance from a busy Main Street.
"Are they concerned with Larsons?" Kutner asked. "Because they have a lot more people getting in and out off Main Street to go into their store every day."
Kutner also mentioned a staff survey that he feels has people in the community concerned, especially since it seems several providers and nurses have left Syringa in a relatively short period of time.
"I am sure this was meant to be internal," he said, "but there are numerous copies of this paperwork out there and people are worried there are internal problems with staff."
Green addressed this saying the survey suggests long-term answers to various concerns.
Later in the meeting CEO Joe Cladouhos said the survey is not a stand-alone document and additional documentation must be taken into context.
"I would be happy to meet with smaller groups and discuss this and explain what the hospital has down to address concerns," he said.
Lorraine Roach, deaconess at Trinity Lutheran Church, said she is glad to see the hospital board is "forward thinking and progressive," in its approach to prepare for the future.
"Healthcare is one of the fasting growing businesses and I believe it is the hospital's job to save lives, making access and care as convenient and safe as possible," she said.
Although she supports curb appeal, Roach said, the emotional and aesthetic needs of the community should not have precedent over the safety and care of patients.
"I understand liking the green and the trees, but a better, safer entrance far outweighs this," she said. "In addition, there have been tremendous changes in health care, with the reform and electronic health records, during the past year. Some people are not able to keep up with that change or move forward and sometimes those are the people who move on to other jobs."
Patron Clyde Hanson spoke in favor of a helipad "as close as possible."
"I know from experience with a bad gallbladder that 20 minutes can seem like an eternity," he said.
Syringa Auxiliary member Kathy Carpenter offered support to the board and asked them not to give up.
"I appreciate your efforts. If there's a new entrance that takes away some lawn and trees, we'll get used to the change," she said. "And keep looking at options for the helipad, even if the current site does not work out."
Idaho County Airport manager Mike Cook asked that as plans move forward to "please keep people involved."
"Let's explore all options and keep the community in the loop at the same time," he said.
Cladouhos said after the board meets with engineers and a study is completed – at a cost of about $10,000 – there are plans for a public open house to allow the community to comment.
Patron Dixie Johnson reiterated her concerns with the helipad's location and the fact she does not like the new front entrance plans and also mentioned the staff survey.
"I am concerned out hospital is losing good people due to a toxic and vindictive atmosphere," she said. "We are losing staff from Syringa to other hospitals. I am afraid we are going backwards instead of forward."
"Your concerns are the board's concerns and we have been working diligently to improve the staff and we have a very solid group of providers at the clinic right now," Hornbeck said.
Kutner suggested making minutes and meeting information available regularly on the hospital's web site.
New Syringa community relations employee Dana Groom said she is in the process of helping update the website and have to be more user friendly and useful for the public.
"I cannot argue with you – we need to do a better job of communication," Green told Kutner and the crowd. "We will work on it."
A special board of trustees meeting will be held Thursday, July 31, 1 p.m., in the hospital conference room to consider bids for site work phase 1. The next regular meeting is set for Monday, Aug. 25, 12:30 p.m., Soltman Center.