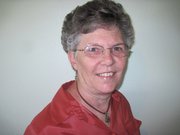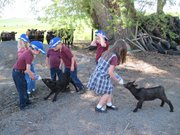 COTTONWOOD — It is time once again for the Cottonwood Blood Drive, scheduled for June 10 at the Cottonwood Community Hall. Call Brenda Kaschmitter or Cheri Holthaus at 962-3251 to schedule an appointment. During the summer, blood donations typically drop off dramatically as donors go off on vacation and schools close, but the need for blood never takes a holiday. The American Red Cross urges people to donate blood as it is critical to the ability to provide a steady and ample supply of blood for those who depend on its life-saving benefits. Any healthy person age 17 or older and weighing at least 110 pounds may be eligible to donate blood. Valid ID is required for all blood donations.
Four Quilts of Valor were presented Monday, May 26, at the Keuterville Pub & Grub following Memorial Day ceremonies. Those receiving quilts were Harold Schacher, Fred Seubert, Richard Uptmor and Ronald Sonnen. The Sew-Ciety Quilters Guild of Grangeville makes and presents the quilts locally. Quilts of Valor is a national program with thousands being presented nationwide to veterans. We owe them a debt of gratitude for their service to our country.
The kindergarten class from Summit Academy with their teacher, Kathy Rehder, went on a field trip to B & A Performance Auto recently. Besides touring the shop and learning all about it, Tommy Rose got to show off his baby goats to his classmates. They are very cute and fun playmates.
The Tri-Parish Youth Group will have a car wash on Monday, June 16, at the fire station in Cottonwood. The kids will be working all day from 9:30 a.m. to 4 p.m. — support them and their efforts.

Roman Schumacher's funeral was last Saturday. He will be missed by all who knew him, especially his family. He touched the lives of many people in this area. He probably fixed more balers for farmers than anyone else. He was a good man and a good friend.
For your convenience the Tri-Parish has provided a list of all the Mass times in the neighboring parishes. If you want to attend Mass elsewhere this summer, keep this list handy.
Saturday, 9 a.m.: Sacred Heart, White Bird; Saturday, 5 p.m.: Assumption, Ferdinand; Saturday, 5:30 p.m.: Sts. Peter and Paul, Grangeville; Saturday, 5 p.m.: St. Theresa's, Orofino; Sunday, 8 a.m.: St. Mary's, Cottonwood; Sunday, 8 a.m.: Sts. Peter and Paul, Grangeville; Sunday, 8 a.m.: St. Catherine of Siena, Kamiah; Sunday, 10 a.m.: St. Anthony, Greencreek; Sunday, 10 a.m.: Holy Trinity, Nezperce; Sunday, 10:30 a.m.: St. Theresa's, Orofino; Sunday, 7 p.m.: Holy Cross, Keuterville.