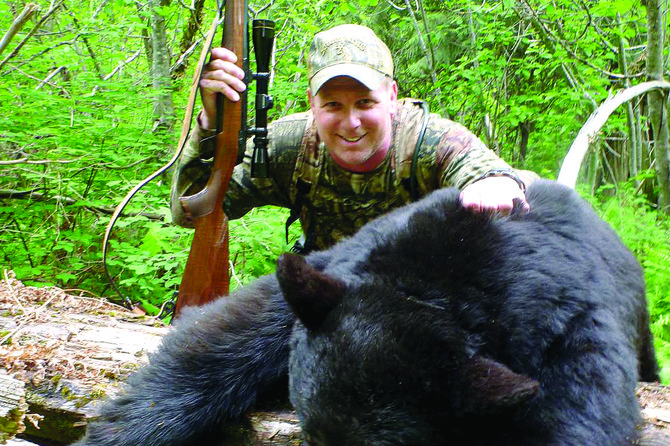 Contributed photo
Wounded Warrior Maj. Jason Waggoner with the black bear he harvested last Saturday, May 31, near Powell.
The Lucas Swanson family of Powell hosted two Washington State Army veterans for a very special bear hunt this past weekend.
Prior to becoming an Idaho Fish and Game Conservation Officer, Swanson completed a tour with the U.S Marines. It has been a goal of Lucas's to give back to soldiers who have given so much to protecting our sacred American way of life.
Swanson teamed with his wife, kids and Rick Sutter of Kooskia, to make a special hunt for two combat wounded veterans: Maj. Jason Waggoner (who is still serving as the Deputy Public Affairs officer for the 7th Infantry Division) and Sgt. Anthony Olivero. Both Army infantry soldiers had suffered debilitating injuries from IED attacks during their tours in Afghanistan and Iraq.
For a month prior to the hunt, Lucas Swanson set up and maintained several bear bait stations in Big Game Unit 12, along the Lochsa River. On May 31, Rick Sutter brought the two soldiers up to Powell. After introductions, Nicola Swanson and her daughters cooked a feast for the hunters and "guides" prior to departing for their bear stands.
The bear baits were in remote, steep terrain. Waggoner, who operates with a prosthetic leg, was on all fours at times, clawing his way up the mountain to his stand.
Mobility challenged does not appear to be in his vocabulary.
By the time the sun set, both Waggoner and Olivero had harvested a great black bear boar.
Waggoner said "taking an Idaho black bear was a major bucket list item for him."
The hunters and hunt support team had an incredible day. Nicola Swanson said it was just so great to spend time with these super guys who gave so much for our country. It was great to say thanks for their service and sacrifice with a small gift from us.
Idaho Department of Fish and Game district conservation officer George Fischer is based in Grangeville.