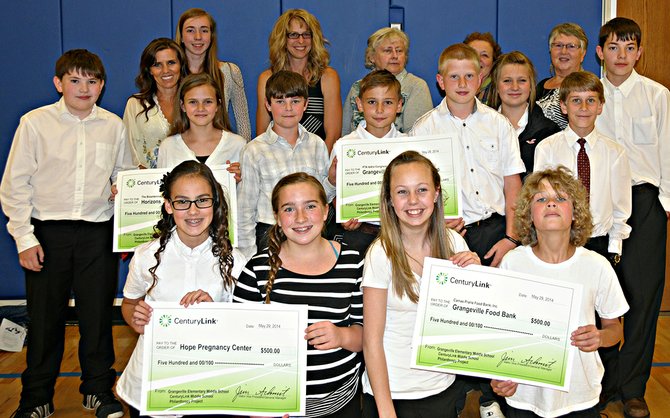 Photo by Lorie Palmer
CenturyLink recently made several grants to Grangeville non-profits. Some of the students who worked on choosing the grants and the recipients are pictured here.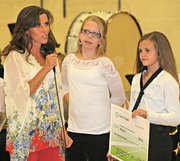 GRANGEVILLE — "At CenturyLink, our vision is to improve lives, strengthen businesses and connect communities," said Jim Schmidt, vice president and general manager for CenturyLink in Idaho and southeast Oregon.
Schmidt was at the Grangeville Elementary Middle School concert Thursday night, May 29, to award several Grangeville non-profits. Sixth-grade students in the classes of Michelle Barger and Elaine Anderson chose the groups they wanted to donate to following an extensive research project.
"We want to be involved in and giving back to our communities," Schmidt said. "Rather than us prioritizing the needs in a community, this program is unique in that it provides an opportunity for students to identify those needs and connect with their community in a way that will raise awareness and hopefully plant a seed with them for a lifelong interest in giving back."
Students chose to award $500 each to Animal Ark, Hope Center, Kids Klub, Inc., Horizons Recreation Committee, Camas Prairie Food Bank and the Grangeville PTA.

"I learned a lot from this project," said student Iseyda LaCombe. "One thing I realize now is that these non-profits take a lot of work by a lot of dedicated people in our community."
GEMS was one of 10 middle schools in Idaho and southeast Oregon that participated in the program to determine how to each distribute $3,000 among nonprofit organizations impacting their particular community. A total of $30,000 will be awarded to 42 local nonprofit organizations across Idaho and southeast Oregon through this program. This is the third year the Centurylink Middle School Philanthropic program has been in place.
The program's purpose is to increase awareness among middle school students of various needs in their communities. In addition, the program aims to create a lifelong interest in volunteerism and community involvement, develop skills to allocate limited resources and increase civic engagement.
"We appreciate CenturyLink giving us this opportunity to help our community," said Barger. "The students learned that some non-profit organizations help more than 1,000 kids per year. Through this program the students learned that every person can make a difference in our community."
For details visit www.centurylink.com.