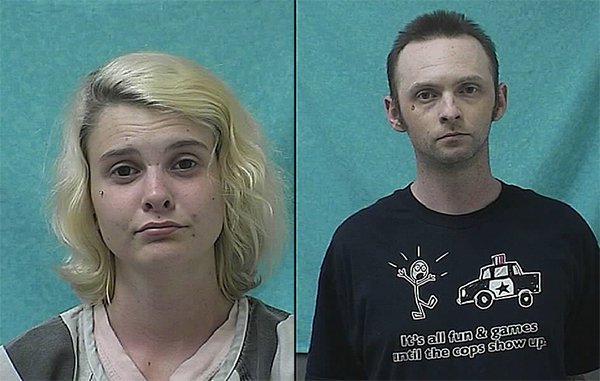 Federal prosecutors have taken over in charging an Idaho couple for last month's US Bank robbery in Cottonwood.
Ricky A. Fisher, 34, and Jennifer L. Balfe, 18, are in federal custody in Kootenai County, set to appear for jury trial on July 22 in U.S. District Court of Idaho.
As a result, Idaho County has dismissed its robbery charges against the pair without prejudice, which reserves the right to refile these charges "depending on what happens in federal court," according to court records.
The pair is charged with the May 16 robbery of US Bank in Cottonwood. Fisher is alleged to have entered the Main Street bank, presented the teller a note demanding money and leaving with approximately $2,324 to a waiting car driven by Balfe. The pair drove to Lewiston where they were recognized and arrested at a motel two days later.
In interviews with the defendants provided in county charging documents, Balfe stated her boyfriend knew Fisher while in jail, and through this connection she became acquainted with Fisher while he was serving prison time in Florida on a 2007 Idaho conviction for bank robbery. She began to write to Fisher and ultimately met him at the bus depot in Boise May 2 after his parole from prison the day prior.
Just days later, the pair is alleged to have been involved in two bank robberies – on May 9 and 14 – in Ontario, Ore., for which Balfe and Fisher shift the blame to the other for the idea. According to court records, the Cottonwood robbery appeared to be a spur-of-the-moment crime, allegedly committed by the pair who noticed the bank when they turned off U.S. Highway 95 into town en route to Lewiston.
According to Balfe, prior to the pair's arrest they spent their time in Lewiston at the Cedars Inn motel and the casino, drinking and also using methamphetamine they allegedly purchased in town.
Maximum penalties for federal bank robbery are 20 years in prison, a $250,000 fine and three-year supervised probation.