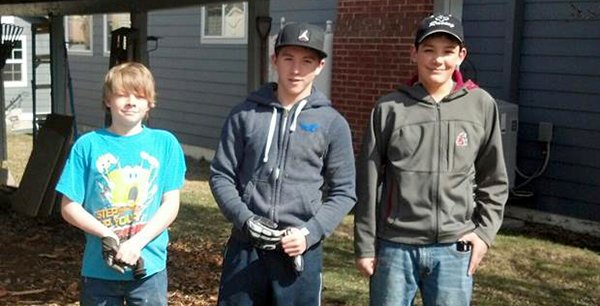 GRANGEVILLE — "It's a good thing to learn to give back," said Katrena Foltz Hauger.
That's why the Grangeville Elementary Middle School P.E. and health teacher and athletic director recently required her seventh graders to come up with community service projects.
"It's nice to do something for someone for free," said Justin Fogelman who helped mow the lawn at Cozy Care Daycare.
Micaela Farris and Jolie Tosten set up shop at Cash and Carry Market and were hosts to a baked foods sale.
"We raised $109.50 for Animal Ark," Farris said.
"It was fun to see how many people in our community care about animals," Tosten added.
Booker Bush, Reece Jones, Jacob Vanderwall and Austin Long stacked wood for Bush's neighbor.
"She had back surgery and it felt pretty good to help her," Bush said.
Colby Kennedy set up a table at Asker's Harvest Foods and asked for donations for the Camas Prairie Food Bank. He collected 54 food items and $34.31.
"I learned that people in this community donate more than you think," he said. "When people found out what I was doing they would smile and say 'thank you' and it made me feel good."
Other students completed projects such as cleaning up at the Senior Citizens Center, picking up trash and volunteering at Grangeville Health and Rehabilitation Center.
"I think it's a very valuable project and I have been impressed with the kids' work," Hauger said. This included honing skills such as making telephone calls and talking to people as well as writing essays about their experiences.
Hauger said she plans to continue the activity next year and may involve additional grades.
"It's really something everyone can benefit from," she emphasized.