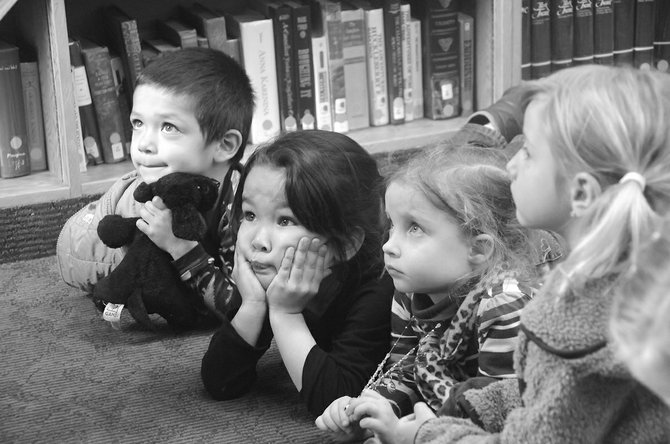 Photo by Lorie Palmer
A variety of programs are set for this summer at Grangeville Centennial Library. Here, kids listen to a story at the library.
GRANGEVILLE — Fizz! Boom! Read! It's time for a summer full of reading fun at Grangeville Centennial Library.
"We have a lot of programs set for this summer," said librarian Becky Hosman.
The summer reading kick-off party is set for the library all day Friday, June 6. Sign up for various activities that day, enter a raffle and grab a treat.
Activities are as follows:
The main six-week programs will start Tuesday, June 10. This will include events for 3-5 year olds from 10 to 11 a.m. each Thursday; a program for 6-8 year olds Tuesdays 10-11 a.m. and 4-5 p.m.; and activities for 9-12 year olds each Thursday from 1 to 2 p.m.
Drop in at Grangeville Elementary Middle School for a free lunch (ages 1 to 18) plus activities, a lending library and more. Free lunch is each weekday and library activities are set for Tuesdays noon to 1 p.m. June 10, 17, 24 and July 15, 22 and 29.
An activity for 5-10 year olds will be held at Pioneer Park Wednesdays, Aug. 6-27, 10 to 11 a.m.
Book clubs will begin June 6 with adults and families participating in independent reading; sign-up at the library and final events are TBA. Teen coffee club will meet Thursday mornings 8-9 a.m. starting June 12.
Drama Club – Reader's Theater for grades third through eight is set to start June 10, 6 to 7 p.m. Play practice and theater skills will rotate each week.
Sign-up for writing club for adults and teens will be June 6. All writers are invited and the group will meet every six weeks to share and critique work.
"Everyone is invited to join in for the fun," Hosman added. "There's a lot going on; it's going to be a busy and fun summer."
Reading program basics include children signing up and reading a set number of age-appropriate books. They are able to earn prizes by completing the weekly and overall summer program. In addition, activities will include arts, crafts and games.
Programs will be closed during Border Days week (June 30-July 4).
Sign up for any program at the library, 215 W. North St.; call 983-0951; or log onto http://grangeville.us/centennial-library to sign up on-line.