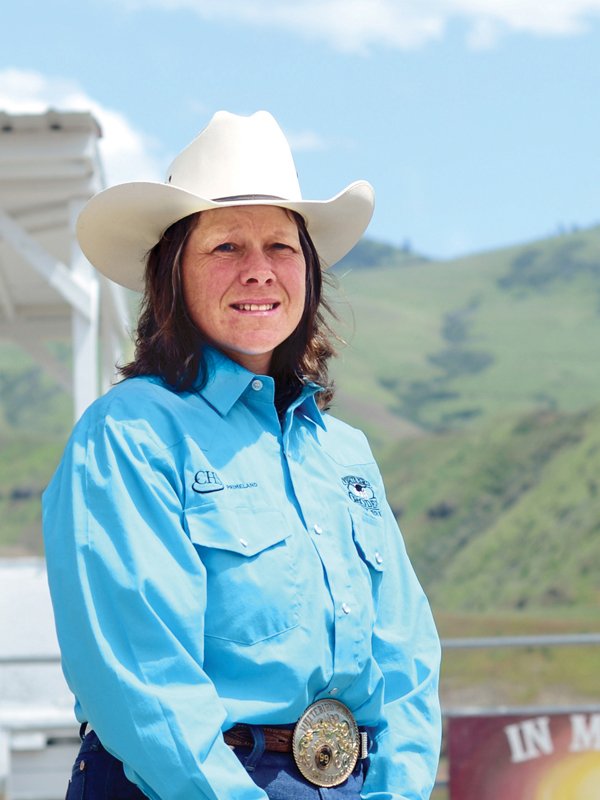 Photo by Andrew Ottoson
White Bird Rodeo vice president Shelley Neal knows the rodeo's 25-year history; she has been one of its organizers since the very start.
WHITE BIRD — It's one of history's secrets: The first time anyone ambitious enough to pursue such a bold idea thought to hold a rodeo here. Hold rodeos they did, during the 1930s, near Slippy Creek, near where the rodeo is held today.
Time flew. The rodeo faded, but the memory of it came back to a group of young local ranchers and cowboys who gathered for beers at Mac's Bar one night.
With muscle and sweat, they put on a rodeo of their own in 1990; that was at the old mill site, leased from Neal and Evelyn Dewitt, on Deer Creek Road.
The next year, with help from a Bureau of Land Management man, they relocated to the Hammer Creek Recreation Area.
That site came with two problems: during a mid-June surge of meltwater, the Salmon River would lap at the back pens; and every year, everything that makes up a rodeo facility had to be taken down only to be set up again the next year.
The rodeo found a permanent home in 2006 — again, thanks to the BLM. Since then, the White Bird Rodeo organizers have made numerous improvements, notably adding an office, storage, bleachers and additional parking to the site.
That's all according to the record kept by White Bird Rodeo vice president Shelley Neal, who was with the group at Mac's that formative night.
"It was just a group of us, cowboys, ranchers, friends, all sitting around deciding we could have a rodeo," she said. "There were probably 10 or 15 there, and we gathered up a few more as we started going along. Lonnie Keeler was a big part of it, and so was Mike Heath."
2014 White Bird Rodeo: June 13-14
WHITE BIRD — Local entries for the 25th annual White Bird Rodeo's team roping, youth barrels and steer riding events will open June 5 until full at 983-7701.
At the gate June 13-14, tickets are $8 (adult) or $6 (kids ages 6-12). Ages five and younger enter free. Programs $1. Calf scrambles for ages 3-7 and 8-12 are set both days. Steer riding at 6:15 p.m. Friday and 4:45 p.m. Saturday will lead into the rodeo each evening.
The Eh Capa Bareback Riders will ride at the Saturday rodeo and at the parade 11 a.m. June 14 in White Bird.
The arena is six miles south of town; exit U.S. 95 onto Rodeo Drive at Twin Bridges.
Keeler continues to support the rodeo, Neal said, and Heath is now chute boss.
(Many more than can be listed in this space have contributed since the rodeo's inception.)
"A big player all along helping us was LuVerne Grussing," Neal said. "He was the recreation manager for the BLM."
"We were to the point when we were down there in Hammer Creek…it became so much work we were about ready to call it quits because nobody had the time to put it up every year," Neal said. "LuVerne worked with us, and the spot we're in now, we can leave it up so the 4-H kids and other people can use the arena. That's what it's for. It's for the whole community."
The site also hosts District III high school rodeo.
Neal, nee Shelley Gill, married Garrett Neal in 2006. Her family goes back five generations in Idaho County, having settled at Gill Point near Tolo Lake. During the early 1900s, they started running cows; the Gills go back four generations at Cow Creek, near Lucile.
Growing up, she competed in high school rodeos; once, while team roping with her older brother Marty, she fell off her horse, got up, got back on her horse and caught both heels.
She has seen rodeo change in a number of ways — including one literally big way: "everybody drives these live-in trailers now. It's big business."
For a town of perhaps 100, it was never a small project.
During the early years, it cost about $10,000 to put a rodeo on. Josephine Parsons, who owned and operated Mac's at the time, was the first to sponsor a chute gate and a belt buckle.
It costs $12,000-$15,000 to put it on these days, Neal said.
Under a fresh coat of paint, the chutes bore no sign of age last Saturday, May 31, but rather the signage of those sponsors whose advertising dollars, in combination with ticket sales, now perpetuate this tradition.
The scene at the arena before the livestock and competitors and crowd arrive was pure and placid. Nestled among the mountains, the Salmon River was running about 25 feet deep (about 55,000 cfs) at the stream gage — about two feet below the May 27 crest. After a break, the committee turned its attention to yard work.
"We have a beautiful location," Neal said. "We have a wonderful setup, plenty of parking, easy in and out, and it's visible from the highway."