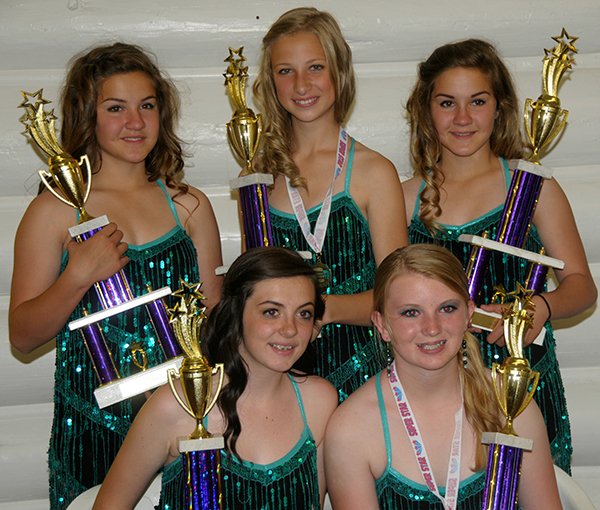 Photo by Lorie Palmer
Advanced group Sweepstakes winners were (top, front L-R) Hailey Russell and Caity Johnson and (back, L-R) Micaela Farris, Bella Klapprich and Macenzie Farris.
CLARKSTON, Wash. — More than 40 dancers from the Camas Prairie, Nezperce, Craigmont, Clarkston and Lewiston areas participated in Shirley's annual dance competition held Saturday and Sunday, May 31 and June 1. The event was held at Shirley's Dance Studio in Clarkston.
"This was a change from our usual event which is held at the Elks Lodge," said Shirley Sears, dance studio owner and teacher. "All the comments I had from parents stated they liked it better at the studio."
Students competed in lyrical jazz, jazz, novelty, character, tap and student choreography. Many students also participated in the "Express Yourself" category where they introduced themselves, modeled and produced a short talent performance for the judges.
Shirley's Grangeville-area dancers walked away with a variety of awards during the two-day event including the following Sweepstakes (overall) prizes:
Pee Wee solo – Katelynn Nail of Grangeville; Beginner solo – Chloe Winder of Grangeville; Beginner II solo – Cheyenne Brown of Grangeville; Intermediate solo – Naomi VanHouten of Cottonwood; Intermediate II solo – Hailey Russell of Grangeville; Beginner duo – Nikki Parks and Mataya Smith of Grangeville; Intermediate duo – VanHouten and Alena Flocchini of Big Cedar/Kooskia; Advanced duo/trio – Micaela Farris, Bella Klapprich and Macenzie Farris of Grangeville; and Advanced Group – Russell, Farris, Klapprich, Farris and Caity Johnson of Grangeville. It was the second year running the group brought home the Sweepstakes trophy. The girls have been dancing together close to a decade.
Sears will offer classes in Grangeville on Mondays at the United Methodist Church basement on Main Street. Call 509-758-6510.