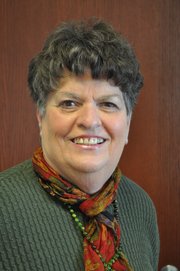 KOOSKIA/KAMIAH — This is the week for the Valley Garden Club's second annual flower show called "June is Bursting Out All Over." The event will take place on Tuesday, June 17, 1-5 p.m., at Lewis and Clark Resort, 4243 Highway 12, near Kamiah. It is open to the public to attend and show with a very large variety of categories in which to show off your growing and arranging skills. You are sure to find something that fits your skill level. This show will prepare you for what to expect if you plan to enter plants in one or more of the area county fairs. The judges here are all professional, and many are judges at county fairs in the state. If you are interested, or would like information, call Linda at 935-0493. This is a very well-executed, professional show, and is excellent training on how to show and what to expect. Go see this show and help support the efforts of our local garden club. They work hard to make this a beautiful event and you will learn a lot.
Tahoe QRU raffle 'going well '
TAHOE RIDGE — Tahoe QRU's rifle raffle is going well. Tickets are still available and will be until the drawing at the Kooskia Days celebration. Price for tickets are $1 each, six tickets for $5 or 25 for $20, and you could win a Ruger 10-22 rifle, ammo, soft case and Dale's Cashway's cap.
Tickets are available at both Kamiah Community Credit Union in Kooskia and Kamiah, Dale's Cashway on Highway 12, Kooskia Feed and Umpqua Bank in Kooskia, Perfection Tire and Creative Spirit Gifts in Kamiah, or any Tahoe QRU member. Also, Tahoe QRU is presently seeking gently used items for their yard sale fund-raiser that will be held at the Kooskia park during the "Kooskia Picnic In The Park Community Fun Day and Yard Sale."
If you have donations, or if you have leftovers after your own yard sale, call 935-7541 daytime, 926-4908 evening and we will make arrangements to get them. The yard sale at the park is planned for June 28, 9 a.m. until 3 p.m. They are presently looking for people interested in acquiring a space to take part in the sale and fun. They would like to thank those of you who have already made contributions.
The Clearwater Valley Roundup Association (CVRA) is getting ready for the 51st annual Kamiah rodeo being held on June 21 and 22. There will be a workday on Saturday, June 14, at the Kamiah rodeo grounds starting at 9 a.m. Projects will include fixing fence, digging post holes, weed eating, mowing, pounding nails and general clean-up of the grounds. Bring gloves, tools, lunch and water to drink. Tools needed (along with helping hands) are shovels, tamping bars, hammers, weed eaters and lawn mowers. The final planning meeting prior to this year's rodeo will be held on Wednesday, June 11, 6 p.m., at the Kamiah rodeo grounds clubhouse. Non-members are always welcome. It sounds like work, but it will be fun! And, CVRA announces rodeo queen tryouts during rodeo week on Tuesday, June 17, at 6 p.m. Tryouts will be held at the CVRA rodeo grounds on Hill Street in Kamiah. Eligible contestants must be 14-18-years old as of Jan. 1, 2015, and live in Idaho, Lewis, Nez Perce, Clearwater or Latah counties. Contestants must participate in this year's CVRA Spurs & Spokes parade on Saturday, June 21, and ride in the grand entry both days of this year's CVRA rodeo on June 21 and 22. Dress requirements for the tryout, parade and rodeo are long-sleeved white western shirt, blue or black plain (no bling) western jeans, western cowboy hat and cowboy boots. Contestants will also be expected to sell 50/50 raffle tickets at each performance of this year's rodeo. The 2015 queen will be announced during the Sunday afternoon rodeo performance on June 22. Contact Ana Pauley, 451-5612, ana.pauley96@gmail.com, or message Ana on Facebook. Many of the entry forms can be found for the parade and events on-line at www.kamiahchamber.com/events and e-mailed to cvrarodeoparade2014@gmail.com.
Mark this on your calendar. On Aug. 6, from 3-5 p.m., Syringa's Kooskia Clinic will be holding free physicals for those interested in high school sports and Boy Scouts. Registration forms are available on-line at syringahospital.org and at the clinic the day of the event. Call Jo Anne Smith at 507-0720.
What's happening this week: VFW bingo, June 13, beginning at 6:30 p.m., lots of food and fun, at their facility in Kamiah next door to Loving Hands Resale. Kamiah Senior Center serves meals on Monday, Wednesday and Friday, starting at noon. They have music on Monday and Friday at 11 a.m. Schedule a mammogram at the Kamiah Clinic, 935-2585. Mammograms are by appointment and are done the second Wednesday of each month. Farmers' Market at Long Camp RV on Highway 12, at mile marker 68, 9 a.m. until 1 p.m. Kamiah indoor Farmers' Market in the Kamiah Mini Mall on Main Street across from the post office, on Friday from 9 a.m. until 2 p.m. In Kooskia recycle on Thursday, 4 to 6 p.m. Saturday will stay the same, 10 a.m. Be sure to separate items.
These are the new summer hours. Remember the ball games on Thursday at 6 p.m. at the Kooskia City Park. Co-ed adult softball teams will be playing every Thursday through Labor Day. Everyone is invited. Kamiah Presbyterian Church will have their weekly free soup lunch, 11 a.m. until 1 p.m. on Thursday. If you know or make news, give me a call.