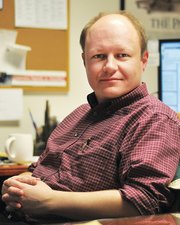 We're pretty helpful around here to give a hitchhiker a lift from point A to point B; maybe they're broken down, or just between jobs and a means of transportation. At least, that's their story.
Or maybe you just gave a prison escapee a head start on his flight for freedom. But how could you tell, if you're not connected in to the right social media or you're just passing through from another area?
We're not totally sure how last week's NICI escapees made the journey – did they walk? Hitch a ride? Steal a hay wagon? — from Cottonwood into Clarkston where they were captured Saturday evening. However, this incident highlights the need for expanding the public notification system to extend those watchful eyes and ears.
First, praise where praise is due. North Idaho Correctional Institution staff was quick on the draw to mobilize its response team and to also phone residents within the region with notification of both the escape and subsequent capture. Also, area law enforcement was as well very responsive in putting eyes on the roads and in the forest to search for the pair.
But the reality is a determined person is going to escape. Even with the fence line improvements made in the past few years, along with other changes implemented as a result of other escapes, those are only deterrents – definitely not roadblocks.
So what to do?
First, phone notification should be automated, and as well include texting alerts for our mobile devices. NICI offered an automated notification several years ago through its ECN system until the program's grant funding ran out. We like the personal calls; however, that staffer can be delayed from making his or her next call by questions posed with their current one, and those delays increase exponentially down the line.
Second, Idaho Department of Correction (IDOC) should partner with the Idaho Transportation Department in utilizing automated highway readerboards to alert motorists of the escape. Right now, ITD has two on the prairie on U.S. Highway 95 – one at the White Bird grade base north side, and the south entrance to Cottonwood – that are largely unused. Utilizing these would extend escape notifications to motorists, whether locals or folks passing through, who for whatever reasons are out of the information loop.
Third, partner with cities and local businesses on notification offerings. Working with gas stations, those operators could be a great partner in simply posting paper notification at every pump and prominently on the doors. IDOC could cost-share with Cottonwood, Ferdinand and Grangeville on installing community readerboards that in escape instances provide notification, extending the warning out prominently.
Overall, the existing escape notification system works, but it could always be improved. IDOC should work with its valued partners, the citizens of Idaho County, in providing the tools and information to better help them in aiding their neighbor, NICI, during an escape event.