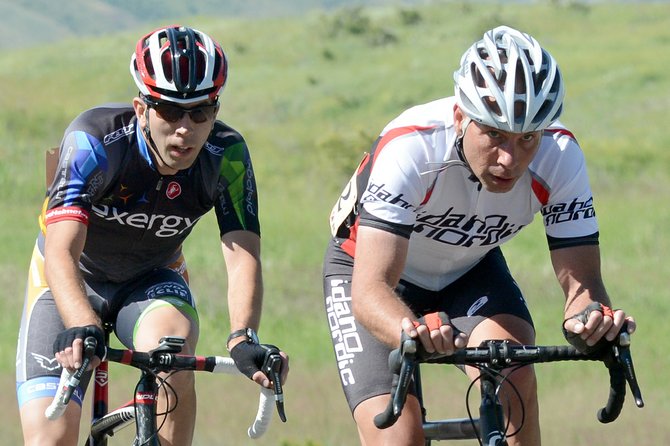 Photo by Andrew Ottoson
The race's two fastest finishers were separated by barely a length as they wound through the Old U.S. 95 switchbacks climbing White Bird Hill last Saturday, June 7. Pictured are race winner Cory Nelson (left) and runner-up Jeff Huntsman, who finished eight seconds behind Nelson's 49:11 pace.
WHITE BIRD — Spotless weather for the "Just for the Hill of it" challenge bike ride last Saturday, June 7, brought out riders from Grangeville, Nezperce, Kooskia, McCall, Kamiah, Cottonwood, Moscow, Orofino, Lewiston, White Bird, Craigmont, and Sandpoint, as well as Washington (Pullman, Pomeroy, Bellingham, Ellensburg, Clarkston, and Friday Harbor) and Oregon (Silver Lake and Mosier).

The day's youngest rider was Zane Griffis, 6, and most "advanced" rider was Lars Sjoholm, 71. Syringa Hospice medical director Dr. Danny Griffis brought his family and four children: Sabrina, Wyatt, Zane, and Coulter.
The record time of 46:44:15 set by Matt Weyen in 2003 still stands; Saturday's fastest finish on the 13-mile course was delivered by Cory Nelson in 49:11.
"Without question, the majority of the success goes to our many volunteers who just keep saying 'yes' and show up anywhere from 5 a.m. to 2 p.m., willing to help in any way we need," organizer Sunny Perry said. "We also want to thank our business and personal supporters who help us to raise additional funds."
The 2014 challenge raised approximately $4,200 for Syringa Hospice.