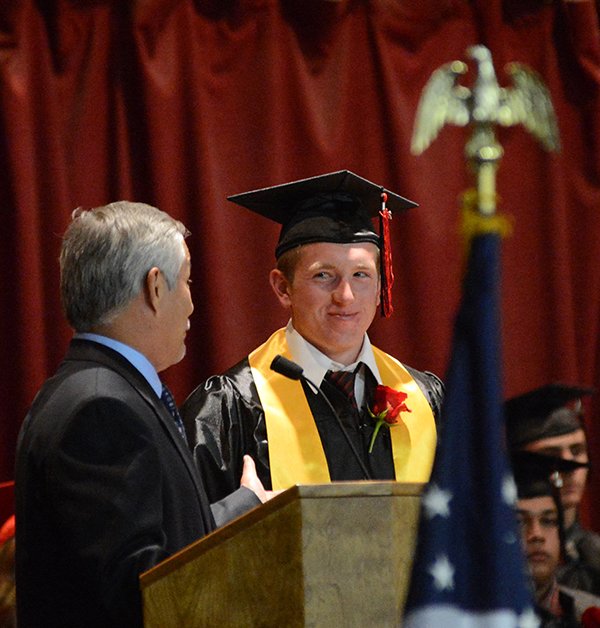 Photo by Andrew Ottoson
Prairie's Drew Cochran smiles in response to praise he received along with his appointment to the United States Military Academy at West Point, NY, during the Pirates' graduation. Making the appointment is Lt. Colonel Albert J. Gomez.
With an especially loud round of applause for Drew Cochran's United States Military Academy appointment, the Cottonwood area ratified its support for sending one of its four valedictorians off to New York, where he'll train to be a U.S. Army officer.
The May 30 graduation crowd had parked on every bit of fair ground – grass-covered or not – in the Prairie High School lots, leaving late-comers to find level spaces on the far side of the Keuterville Road last month.
When Cochran's West Point liaison officer, Lt. Col. Albert J. Gomez, brought him to the podium and presented him with the appointment, the crowd delivered a robust ovation and Cochran, despite his serious demeanor, almost cracked a smile.
For an interview with the Free Press earlier in the week, Cochran provided a mile-long list of extracurriculars and awards ranging from robotics competitions and leadership conferences to athletics, band, Boy Scouts, Knowledge Bowl and theater – a list that includes an honor for a river rafting rescue. Also on the list: hours of public service with the Cottonwood Volunteer Fire Department, Cottonwood City Police and the St. Mary's Hospital EMTs.
"I was told by my liaison that, while I had high scores overall, what really made me stand out to the admissions boards was my vast leadership experience and wide range of experiences," Cochran wrote in an e-mail. "None of those experiences would have been available to me if I did not have such an incredible community supporting me or incredible parents who encouraged me to go out and try for every opportunity that comes my way."
Cochran said he has long aimed to become an infantryman and spoke of how his original plan to enlist grew to focus on entering as an officer. His interest in becoming a professional soldier began early.
"I grew up in a military family," he said. "My dad is a 23-year veteran in the U.S. Marine Corps and Army….The idea of leading some of America's greatest men and women into some of the world's worst environments seemed like the most honorable and rewarding path to follow."
Cochran has followed every available path toward that goal. His day-to-day routine starts with chores before school, followed by activities such as club meetings, volunteer service and stockroom work at the local grocery store. In free time, he has tried everything: rock climbing, skydiving, four-wheeling, shooting, hunting and hanging out at the river with friends.
To anyone younger than him, he would say: "Try something you never thought you would be interested in, whether it be going out for the football team or signing up for the school play… Enjoy life while you can and make some good memories, but take it seriously at the same time."
The Sunday night after Prairie's graduation, Boy Scout Troop 639 pinned Cochran – an Eagle Scout – with a National Honor Medal – the second-highest honor the scouts bestow – for helping free rafters who were stranded in the middle of the Salmon River near Pine Bar last summer.
"They had gotten high-centered on some rocks – they were very, very overloaded," Cochran said. "They [the police] were trying to get a jet boat out to them, trying to throw a rope to them, but nothing they did was able to get them out of there. I had been a little familiar with rafting…I grabbed one of their rafts, paddled upstream against some Class III rapids and managed to get in close enough to grab on to their boat."
After moving gear from the stuck raft to the other, "Once we got it light enough, I was able to lift it up and push it off of there and get everyone back to shore safely. They said they were out there for six hours, I believe," he said.
For his Eagle project, Cochran had helped remodel and rebuild Cottonwood's dog pound.
In his valedictory speech, he related words that "came from a foundation for a fallen Marine named Travis Manion."
"He was killed in action and left behind a legacy," Cochran noted via e-mail before the graduation ceremony. "If not me, then who?" Those simple words have guided me through this process, through words such as 'Kids from these small towns don't get opportunities like that' or 'What makes you so special?'"
"If not me, then who?"
West Point's class of 2017 is due to report in July.