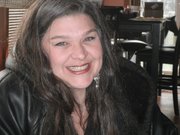 WHITE BIRD — White Bird Days is this weekend! There's going to be fun and entertainment around every corner. The rodeo will be both Friday and Saturday. There will be calf scrambles right before the rodeo, both days for the kids and there will be stick horse races with Smokey Bear on Saturday. We'll have the parade on Saturday morning. Look forward to venders, pie social, the horse pucky contest, kids' games, arts and crafts, live music in the evening and all the good stuff that goes along with our annual celebration. Bring your friends, lawn chairs and coolers. Join our small town for a big celebration.
Fish on! The river is raging and the fish are running. The banks are once again filled with fishermen. Jet boats are spread out from White Bird to Riggins. Summertime is here. Box Canyon is the perfect swimming hole right now. It's always a little bit warmer than the river and much safer for the kids. When the temperature warms up, then the river will too, but for now, Box Canyon is the place to be.
Thanks again to the volunteers who are trying to maintain the yard of the school. Joaquin has spent a lot of time working on the yard and those sprinklers. Heather and Tyrel Cullin and a pile of other kids all pitched in and pulled weeds last weekend. Every little bit helps and the seeds we sow now will soon become a beautiful, beautiful thing.
Happy birthday this week to: Dee Brown, Jacob Pinada, Tiny Barton, Delaney Eller, Kasper Harvey, Steve Dalgliesh, Pamela Hoogland and the wonderful Dean Heckman!