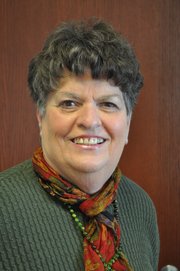 MVSD 244 to provide lunches
Mountain View School District 244 is participating in the Summer Food Service Program. Meals will be provided to all children, ages 1-18, without charge. Acceptance and participation requirements for the program are the same for all regardless of race, color, national origin, sex, age or ability.
Meals will be provided at Grangeville Elementary Middle and Clearwater Valley Elementary schools through June 27 and July 14-31, noon to 1 p.m. each day.
KOOSKIA/KAMIAH — This is the week for Clearwater Valley Roundup Association's (CVRA) 51st annual Kamiah rodeo, being held on June 21 and 22. Along with all the rodeo events there will be a parade in Kamiah, cowboy breakfast, cowboy church, 50/50 raffle tickets at each performance of this year's rodeo and fun for all the family. The 2015 queen will be announced during the Sunday afternoon rodeo performance on June 22. Contact Ana Pauley, 451-5612, ana.pauley96@gmail.com, or message Ana on Facebook. Many of the entry forms can be found for the parade, and events can be found on-line at www.kamiahchamber.com/events and e-mailed to cvrarodeoparade2014@gmail.com.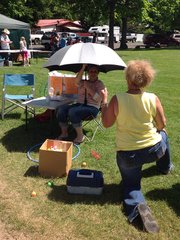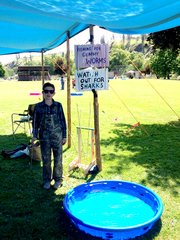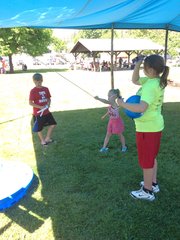 Tahoe QRU's rifle raffle is going well, and tickets are available from these locations or members of Tahoe QRU until the drawing at the Kooskia Days celebration. Price for tickets is $1 each, six tickets for $5 or 25 for $20, and you could win a Ruger 10-22 rifle, ammo, soft case, and Dale's Cashway's cap. Tickets are available at both Kamiah Community Credit Union in Kooskia and Kamiah, Dale's Cashway on Highway 12, Kooskia Feed and Umpqua Bank in Kooskia, Perfection Tire and Creative Spirit Gifts in Kamiah, or any Tahoe QRU member. If you are planning a yard sale, bring your things down to the park, have it there, and enjoy the fun of everyone being together, and the additional benefit of all the people coming to the park to have a good time. If you are not planning a sale, but have things you would like to donate to Tahoe QRU for their fund-raiser, call 935-7541 daytime, 926-4908 evening and we will make arrangement to pick them up. The yard sale at the park is planned for June 28, 9 a.m. until 3 p.m. They would like to thank those of you who have already made contributions.
What's Happening This Week: Tahoe QRU Bingo, June 20, from 6:30-9 p.m. Lots of food and fun at their facility at 786 Leitch Creek Road, five miles east of the Fish Hatchery near Kooskia. Kamiah Senior Center serves meals on Monday, Wednesday and Friday, starting at noon. They have music on Monday and Friday at 11 a.m. Schedule a mammogram at the Kamiah Clinic, 935-2585. Mammograms are by appointment and are done the second Wednesday of each month. Farmers' Market at Long Camp RV on Highway 12, at mile marker 68, 9 a.m. until 1 p.m. Kamiah indoor Farmers' Market in the Kamiah Mini Mall on Main Street across from the post office, on Friday from 9 a.m. until 2 p.m. In Kooskia Recycle on Thursday from 4-6 p.m., and Saturday, 10 a.m. until noon near where the pole yard was. Be sure to separate items. Remember the ball games on Thursday at 6 p.m. at the Kooskia City Park. Co-ed adult softball teams will be playing every Thursday through Labor Day. Everyone is invited. Kamiah Presbyterian Church will have their weekly free soup lunch, 11 a.m. until 1 p.m. on Thursday. If you know or make news, give me a call.