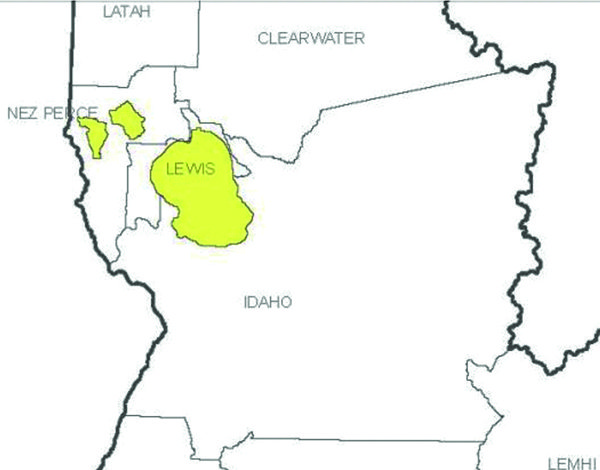 Making an Impact on Drinking Water Resource
In March of 2008, the Idaho Soil and Water Conservation Commission (SWC) and the Lewis Soil Conservation District (LSCD) worked with the Idaho Department of Environmental Quality to prepare the Groundwater Implementation Plan for the Camas Prairie Groundwater Priority Area. The implementation plan was in response to Idaho Department of Water Resources (IDWR) Groundwater Priority Area Rankings. As more data was collected with the assistance of the Lewis SCD, it was discovered that the nitrates were elevated in wells in a much larger area than originally estimated. The new enlarged Groundwater Priority Area was named the Clearwater Plateau Groundwater Priority Area.
Since the original ranking of the Camas Prairie area the IDWR data appears to show a decreasing trend in nitrates. This trend indicates that the implementation efforts that the LSCD and SWC have implemented with 43 landowners and 15,317 acres are making a difference to the areas drinking water. Implementations started with a focus on residue management and nutrient management. Over time, with more data and information practices included split fertilizer applications and the use of slow release fertilizers products to aid in reducing fertilizer losses through the winter months. Septic system repairs were included when data indicated that as a potential source of elevated nitrates.
The current focus for implementation is soil health with cover crops and liming being at the forefront of implementations. Increasing the soil health will increase nutrient utilization, potentially lowering the need for nutrient inputs over time.
Eric Hasselstrom, LSCD chairman, stated, "We are making an impact on our most valuable resources – drinking water."
View draft, submit comments online
http://www.deq.idaho.gov/media/1117296/nitrate-priority-area-delineation-ranking-process-2014-draft.pdf
comments, and requests on DEQ's website or by mail or e-mail to Tonia S. Mitchell, P.G., Senior Environmental Hydrogeologist, Idaho Department of Environmental Quality State Office, 1410 N. Hilton Street, Boise, ID 83706; tonia.mitchell@de...
Groundwater nitrate concentrations within the northern part of Idaho County rank 14th in priority in the state, according to a draft ranking document recently released for public comment.
The Idaho Department of Environmental Quality has identified 32 nitrate priorities areas (NPA) in the state where 25 percent of groundwater sample sites contain water with levels of 5 milligrams per liter (mg/L) or greater. The drinking water standard is 10 mg/L.
The 2014 draft is a revision to NPAs established in 2008 based on data from 1990 to 2006. Purpose of the ranking is to identify and prioritize NPAs to help federal, state and local agencies prioritize groundwater protection and remediation activities. Public comment on the draft will be accepted through June 24.
A portion of northern Idaho County and much of Lewis County make up the Clearwater Plateau NPA, which includes the communities of Craigmont, Nezperce, Ferdinand, Cottonwood and Fenn. According to the 2014 draft, 216 sites were tested in this 561-square-mile area, of which 43 percent (93) were at levels of 5.0 mg/L or greater, and 23 percent (50) were at 10 mg/L or greater. The average was 7.24 mg/L.
In 2008, the plateau was ranked 16th out of 32 NPAs. Based on 183 total samples, figures showed 68 (37.2 percent) were at or above 5 mg/L, and 39 (21.3 percent) were at or above 10 mg/L. The average was 6.8 mg/L.
In both years, the maximum nitrate sample detected was 77.1 mg/L. In 2008, the trend showed no change for Clearwater Plateau nitrate levels from the last NPA rankings in 2002. This year, analysts have determined a decreasing tendency for plateau nitrate levels.
According to DEQ, nitrate is one of the most widespread ground water contaminants in Idaho. Nitrate is a form of nitrogen, an element whose compounds are vital components of foods and fertilizers. It is an essential nutrient for plant growth. Nitrate comes from a variety of sources, such as plants and other organic matter that return nitrate to the soil as they decompose. Septic sewer systems, waste from animal feedlots, and nitrogen-based fertilizers also discharge nitrates to the environment.
In most populations, short-term exposure to even fairly large amounts of nitrate produces no immediate health effects, according to DEQ. However, sensitive populations (babies, people in poor health, and the elderly) can be susceptible to problems from short-term nitrate exposure. Infants younger than 6 months of age are especially sensitive to nitrate poisoning, which may result in serious illness or death.
Livestock, such as cattle and sheep, also can be poisoned by high levels of nitrate in their water. It is recommended that water with a concentration of more than 100 mg/L not be given to livestock.