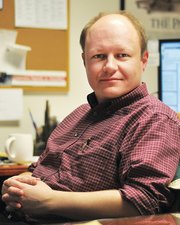 When checking through your May 20th ballots you may have noticed on your way an unheralded – and uncontested – race: precinct committeeman.
The lack of interest in this race is a shame, as this is a good spot to start for those political enthusiasts to become more involved in the process and in starting a political career.
Essentially, the precinct committeeperson's job is to help his or her party grow, and form the core of grassroot efforts to support party issues and candidates. The committeeperson also can participate in the formation and shaping of the party's state platform. Many people begin their political involvement at the committee level, advancing to higher office, which includes many U.S. Congressmen.
The next committee precinct elections are in 2016. Meanwhile, here's a list of those who were elected and re-elected to Democrat and Republican positions – and who are also representing you — in Idaho County's 28 precincts (excluding absentee, Big Butte and Joseph):
Clearwater Elizabeth A. Clark (D), Larry V. Johnson (R); Cottonwood 1: Mona Farmer (D), Maurice G. Seubert(R); Cottonwood 2: Fred M. Kelley (D), Margaret V. Arnzen (R); Elk City: Rea Ann Loomis (D), Jon Menough (R); Fenn: Roberta Bodine (D), Betty J. Alm (R); Ferdinand: Joseph Riener (D); Greencreek: Jim Beckman (D), Donna M. Wassmuth (R); Glover: Thomas Connors (R); Grangeville 1: Jennifer Artley (D), Mary E. Adler (R); Grangeville 2: Judy Purdy (D), George D. Casteel (R); Grangeville 3: Mary J. Fluharty (D), Rebecca Crea (R); Grangeville 4: Michelle S. Perdue (D), Randall J. Fischer (R); Grangeville 5: Patricia Green (D), Cherylyn Kerley (R); Harpster: Richard L. Adams (D), ElRoy Taylor (R); Kamiah: Larry Nims (D), Joann Mider (R); Keuterville: Colleen E. Wilson (D), Nick U. Arnzen (R); Kooskia: James H. May (D), Paul Anderberg (R); Lowell: Andrea Denton (D); Pollock: Dawn E. Shepherd (R); Riggins: J. Eric Hook (R); Slate Creek 1: Douglas T. Giddings (R); Slate Creek 2: Judith K. Johns (D), Jenna Cereghino (R); Stites: Paul Jones (D), John Brandt Jr. (R); White Bird: Roy A. Farmer (R); Woodland: Thomas Igo (R).