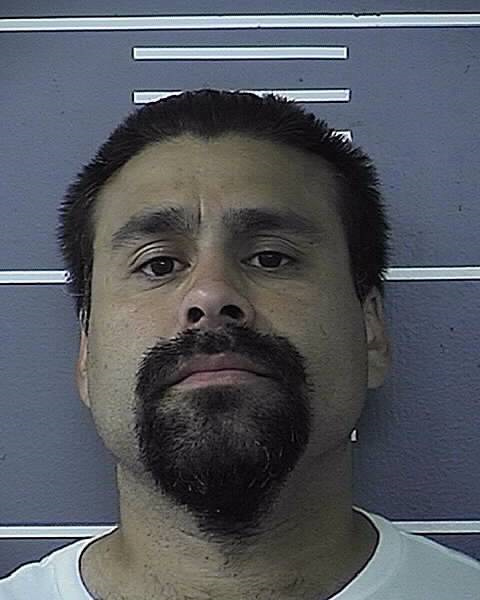 KOOSKIA – Last Friday's arrest of an Oregon man pulls more pieces together for Idaho County investigators as they continue witness interviews and inquire further into the as-yet undetermined motive behind a Kooskia man's murder earlier this month.
As of press time Tuesday, Ernest Ruiz III, 36, of Eugene, was incarcerated in the Lewis County Jail on a felony charge of unlawful possession of a firearm, awaiting a pending court date in Idaho County.
Acting on information from an anonymous tip, Idaho County Undersheriff Jim Gorges and Lt. Doug Ulmer arrested Ruiz last Friday, June 13, outside a Glenwood Road residence in connection with the June 9 murder of Kyle Aaron Anderson, 41, of Kooskia. Ruiz is also being held on a no-bond warrant for parole violation out of Oregon.
Scheduled for a preliminary hearing next Monday, June 23, Jason Andrew Godwin, 48, is charged with second-degree murder for allegedly shooting Anderson outside his Toll Road residence. Godwin is currently incarcerated in the Idaho County Jail with bail set at $500,000.
"The investigation is continuing on this," said Idaho County Undersheriff Jim Gorges, and interviews will continue with at least two more individuals who were present at the time of the shooting.
"We don't believe they had knowledge of this prior, and that they weren't part of the crime itself," continued Gorges regarding the two unidentified witnesses. However, further interviews with the pair are planned.
The homicide was reported that Monday at 10:25 p.m. at Anderson's motor home, which was parked at a gravel turnout approximately four-tenths of a mile from the east Kooskia bridge. According to information from the Idaho County Sheriff's Office (ICSO), Anderson was in the process of attaching license plates to the motor home when the suspect vehicle and several occupants arrived. Anderson was shot by the driver, alleged to be Godwin, who remained in the driver's position of the vehicle.
Godwin was arrested the following day by ICSO Detective Brian Hewson after being interviewed at the ICSO office in Kooskia.
Last Tuesday and Wednesday, June 10-11, ICSO investigators served search warrants on space 10 at the River Junction RV Park that included Godwin's camper and his 1997 GMC Yukon, which was believed involved in the incident. A firearm believed to have been used in the shooting was recovered from the camper.
According to Gorges, Ruiz reportedly admitted to being in possession of an unidentified firearm the day of the June 9 murder when he and Godwin were allegedly target shooting – using both pistols and rifles — at a location Ruiz could not identify. Ruiz also reportedly admitted to being one of the three passengers in the vehicle involved in the incident but that he was not in possession of a weapon that night.
"Witnesses say he may have had one the night of the shooting," Gorges said. "He says he did not; he was absolutely adamant he didn't"
Gorges said investigators will be looking further into the possession question and whether he may have assisted in the murder; specifically: what were his intentions and what information may he have withheld.
Ruiz was detained by Gorges and Ulmer and transferred to the Kamiah Marshal's Office where, after his interview and reported admission of weapon possession he was arrested and placed in the custody of Lewis County.
Gorges explained that Ruiz, after his pending court appearance in Idaho County, will not be housed in the Idaho County Jail as Godwin is currently housed here; he will either be returned to Lewis County or another jurisdiction for detention for the duration of his legal proceedings.