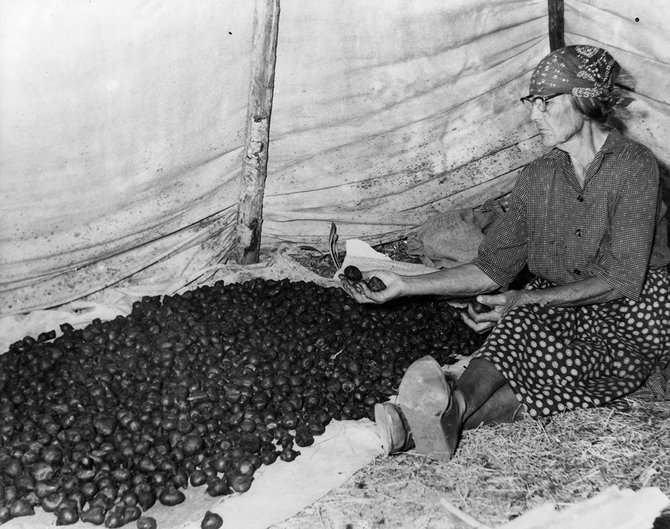 10 YEARS AGO
JUNE 16, 2004
•GRANGEVILLE – Grangeville second grader, Emily Sherwood, received an honorable mention award for the eighth anniversary Idaho TECH Art Contest that was sponsored by the NASA Idaho Space Grant Consortium of the College of Engineering at the University of Idaho.
20 YEARS AGO
JUNE 15, 1994
•Two young people from Elk City, Zack Beeler and Christina Taylor, were recently named All-American Scholars by the United States Achievement Academy and also received award recognition from Who's Who Among American High School Students.
Both Zack and Christina live in Elk City and are 4.0 students at CVHS where Zack will be a junior and Christina a sophomore.
30 YEARS AGO
JUNE 13, 1984
•Idaho County Commissioners agreed this week to terminate Rural West as managing firm of the Idaho County Nursing Home.
40 YEARS AGO
JUNE 19, 1974
•RIGGINS – The flooding rivers have created one crisis after another along both the Big and Little Salmon, and also some of the creeks. High water reached into Frank Sotin's carport Friday night and on into the house Saturday causing them to move out.
•A complaint about the excessive amount of cotton fuzz blowing from trees on the Grangeville General Hospital ground was lodged at the Grangeville City Council meeting.
50 YEARS AGO
JUNE 18, 1964
•Grangeville's Bank of Central Idaho will install a drive-in window service, manager Floyd Swanson announced.
•Earl Huff was named Grangeville Police Chief.
•Lewis Crea, Fenn, operator of the 1,120 acre ranch known as the W.J. Crea and Sons Ranch, was named Idaho County Grassman.
60 YEARS AGO
JUNE 17, 1954
•Three volunteers from Idaho County left for the Spokane induction center. They are Lawrence Johnson and Robert A. Suhr, Grangeville and Patrick Marek, White Bird.
70 YEARS AGO
JUNE 15, 1944
•Two hundred Chinese pheasants were released in White Bird and Grangeville areas.
•Idaho County quota of war bonds in the Fifth War Bond drive is $215,000.
80 YEARS AGO
JUNE 14, 1934
•TOLO – Twila Smith visited Melva Lanningham.
•WINONA – John Ride and Pete King conducted services at the Mt. Zion Church.
•COLUMBUS – Mrs. Albert Ruzicka and son and Virginia Cowan called on Mrs. Zelma Seay.
90 YEARS AGO
JUNE 19, 1924
•The Idaho State Editorial Association meeting in Grangeville will honor A.F. Parker, Grangeville, as president emeritus of the association. Parker is a veteran newspaper man, Indian fighter and Idaho unity advocate. He is credited with being the father of the North and South highway idea.
100 YEARS AGO
JUNE 18, 1914
•Grangeville will start twilight baseball games at 6:15 p.m., after stores and shops have closed and all fans and fanesses and players will have no excuse for missing out.
110 YEARS AGO
JUNE 16, 1904
•During the thunderstorm, lightning struck and instantly killed both horses pulling the White Bird stage. D.M. Bell, driver, was about halfway down the grade when the vivid flash of lightning struck and both horses fell dead.
120 YEARS AGO
JUNE 15, 1894
•Not many people can afford to pay 10 cents a quart for milk in these hard times so all hands are keeping their own cows. This has sent the price of cows up and they are selling for $25 to $30 apiece.
•Those who are raising hogs in town at the expense of their neighbors' gardens must expect the law to be enforced. The only way to abate the chicken nuisance is to eat them.