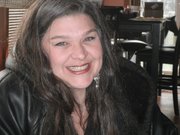 WHITE BIRD — I didn't write last week, because there just wasn't much to report. We did have a good White Bird Days celebration. Families and old friends came into town and got caught up with one another. That's always the best part of it. There was a good parade and rodeos. Other than that, I didn't hear about any of the winners of the different events.
This week, however, has been so exciting that I just can hardly contain my enthusiasm.
A huge circus came through town — elephants, lions, tigers and bears, oh my. There were 25-foot clowns walking up and down Main Street. I saw a man swallowing swords in the park and a bearded lady singing "Yankee Doodle Dandy." Monkeys were running wild all over town, breaking into people's houses and stealing everyone's silverware. It took the Army National Guard to round it all up and get them out of town.
Then the Seattle Seahawks football team showed up and had a scrimmage game at the school. It was between the Hawks and the local White Bird Warriors. Man what a game! The Rebekahs were all along the sidelines, dressed up in the best cheerleader costumes ever, cheering on the White Bird team. Red Lobster was there serving up all you could eat crab for $1.99. Budweiser brought in a truck and was giving away beer and T-shirts. Wow!
And then, Ed McMahon and a T.V. crew went door-to-door handing out million dollar sweepstakes checks to every single house in town.
I'm telling ya, it was one heck of an exciting week here in White Bird.
If I missed anything, feel free to call me or e-mail me, because sometimes I need to be informed about what's going on around here, too.
Hope everyone got a chance to throw a line in the river before they closed down the Salmon fishing. Have a great week!
Happy birthday this week to: Jonna Urbahn, Tammy Battles, Josephine Parsons, Dianna Bunting, Amy Buss, Emily Gennis, Ryan Hoene, Gabriel, Trace Chandler, Dale Clark, Josh West, My Uncle Bryan Lowe, Trayven Sickels, Mike Tilley, Elizabeth Marek, Roy Farmer, Ken Moline, Kami Sickels and my cousin, Brody.