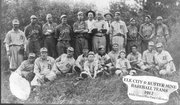 ELK CITY — Speaking of Baseball… Sorry that the photo didn't get in the article last week. I was having server problems and it was late getting in. Here it is. The Buster Mine crew and the town of Elk City were serious baseball players. Dixie had a team as well, complete with uniforms! In fact, the Dixie Community Hall and Chapel has one on display. It would be great to find ones for the other teams! Apparently, the teams would travel, even out to Grangeville. The Buster Mine and Mill sits above Elk City on the hill a little ways past the present day Forest Service. I'll share a photo of it next week.
Ball mill vs stamp mill: In a ball mill, the coarsely crushed ore is sent through a huge drum in which large cast iron balls were placed. The drum turned and the ore was pulverized by the balls. Gold Point Mill on Red River is a ball mill. A stamp mill is where the ore goes under huge stamps that go in an up and down motion crushing the ore. To see a working model of a stamp mill, be sure to visit the museum in the Elk City Hotel gift shop. I know these are simplistic descriptions but you have to see them in person to fully understand and appreciate them (or at least go on-line and do some research). The model of the stamp mill is quite noisy. I often wonder how many people lost their hearing working in one.
Reminder: Library will be open throughout the summer on Wednesdays from 11 a.m. to 2 p.m.
Birthdays: Brooke Phillips and Stan Denham.
Anniversaries: Angus and Sarah Clemenhagen.
History: The original locator of Fall Creek Station, J. N. Harmon, sold it to Billie Huston in 1906. Billie Huston was a prospector and packer. He felt that this highly mineralized area held huge future mining possibilities because of the operations of the placers in the 1860s and 1870s and then the opening of many of the quartz properties in the 1890s. His cabin was the main stop-over place from Newsome to Old Golden. Joe Williams purchased Fall Creek in 1918/1919 and was instrumental in the development and building of Fall Creek during the 1930s.