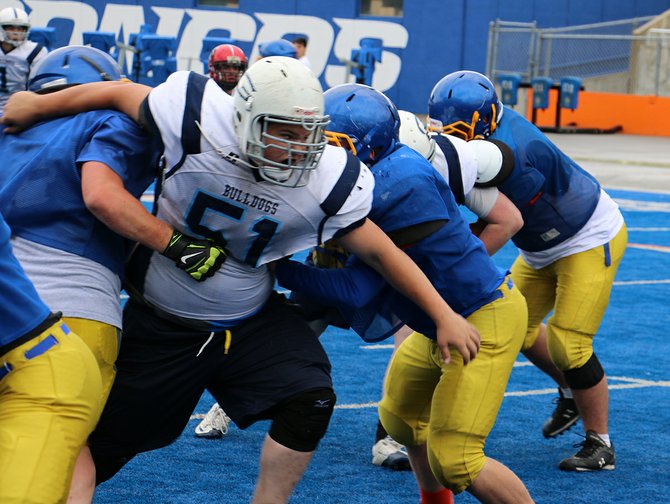 BOISE — The Grangeville High School football squad took to the famous blue turf at Boise State University for the football camp the Bulldogs have attended annually under head coach Jeff Lindsley.
This year, 37 attended — minus standout athlete Jake Stokes, who will likely miss his senior football season having severely injured his knee playing basketball.
Nevertheless, the GHS boys performed well, Lindsley said.
"We went down on Father's Day and finished up last Wednesday morning...camp for us is huge in that it saves us about three weeks of work we'd have to put in on the same things in mid-season," he said. "It's not only for seeing a bigger program — being exposed to how Boise State is — but for the learning and the skills we gain."
Among others affiliated with BSU was Kellen Moore, who has won a roster slot with the NFL's Detroit Lions every year since 2012.
"Any time a high school kid can get instruction from an NFL player, it's huge," Lindsley said.
Also present were 5A high schools from across the state — against whom Lindsley said the GHS boys competed well.
"On the way down, we wanted the kids to have a good experience, but on the way home, I was extremely happy with how we competed," he said. "We can throw the ball better than we thought."
Come fall, the GHS offense will once again have a different look — tailored to "what these kids' abilities are."
Layton Harris — the leading candidate for the starting quarterback job — "received a lot of compliments from the other programs and coaches we saw," Lindsley said. "He didn't miss too many throws."
Lindsley also noted others' praise for top returners Austin Parks and Michael Wilson.
"Austin Parks was one of the best receivers at that camp, and Michael Wilson the same," he said.
Two others who may not be as familiar to Grangeville fans right now also caught their coach's eye:
"Take a kid, Cody Frei, who has never played center — he showed he can play center," Lindsley said. "And Jacob Layman, he can play on both sides of the ball."
Grangeville's season is set to open Aug. 29 against Moscow.
"Like any high school program, we need to get stronger and faster," Lindsley said. "We thought about doing some seven-on-seven, but we're giving them the rest of the summer, just to let kids be kids. There's more to life than sports."
The weight room is open to players four mornings per week.