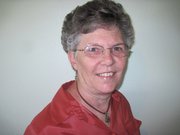 COTTONWOOD — On Thursday, June 19, "Mad Scientist" Dr. Stingleflurp (a.k.a. Joseph Halligan) visited the Prairie Community Library to share his favorite story, "The Secret Science Project that Almost Ate the School," and do a few experiments with the children who were participating. Approximately 25 children joined in on the first session of the Summer Reading Program at the library. After registering, they played "Burst the Atom" and the "Magnified Objects" games; winner for the girls was Mckayla Rose, and for the boys was Tyler Wemhoff. Then all the children, before meeting the mad scientist, made their own scientist costumes: crazy hair, lab coats, science bag and goggles. Then, dressed up, they met Dr. Stingleflurp who read to them. The children were then divided into teams and with Dr. Stingleflurp leading each team, made some eggs float, tried turning film canisters into rockets, and finally, watched as Dr. Stingleflurp added Mentos to Coke to cause a geyser! Fun was had by all. Next week, the theme will be the Backyard Naturalist. Our focus will be bugs! Each child is asked to bring one bug to the library.
Congratulations to Fr. Paul Wander who recently celebrated his anniversary of ordination. He is a very kind man and a dedicated servant of God. We wish you many blessings and many more years.
A memorial service and burial for Terence (Terry) Duman will be held on July 5 at 11 a.m. at the Cottonwood Catholic Cemetery. All are invited to a lunch at the Cottonwood Community Hall directly after the service.
On a Swing and a Prayer . . . KC annual golf tournament, July 26, to be held at Grangeville Country Club. This year's major event sponsor is City Electric. Sign up from 8:30-9:15 a.m.; tee, shotgun start at 9:30 a.m. Entry fee is $100 per person. Questions? Contact Dale McElroy at 983-7608 or Ryan Uhlenkott at 791-0492. Proceeds go to support local pregnancy center, Special Olympics, Tri-Parish Education, 153 Cross Fund and the Knights of Columbus #1389.
Noelle Pikus Pace, Olympian, silver medalist, mother, world champion, world cup champion and business owner is coming to Grangeville this summer and has agreed to speak to the community on Monday, July 21, in the Grangeville City Park starting at 6:30 p.m. Noelle has been a motivational speaker all around the country for several years, but since winning her medal at the Olympics this year she has had hundreds of requests and has even been commissioned to write a book. Daily, she regretfully turns down many speaking opportunities simply due to lack of time. She has agreed to come to Grangeville/Cottonwood in between four other speaking assignments that week. Prairie schools wanted to get the word out to everyone. You will always remember listening to and meeting Noelle.
Gardening the Soul: Holistic Living: July 18-20. Join Sister Agnes and Sister Carlotta in learning how gardening, herbs and other health modalities contribute to holistic living. Explore plants' healing qualities through discussion and experiential opportunities — St. Gertrude's Spirit Center. Upcoming in August, "The Sacred Art of Traditional Iconography," Aug 17-22, www.StGertrudes.org.
All are invited to celebrate the 4th of July in Greencreek. Games and rides for children, breakfast, hamburgers, hot dogs and homemade pies for lunch plus an auction. Fun for all ages.