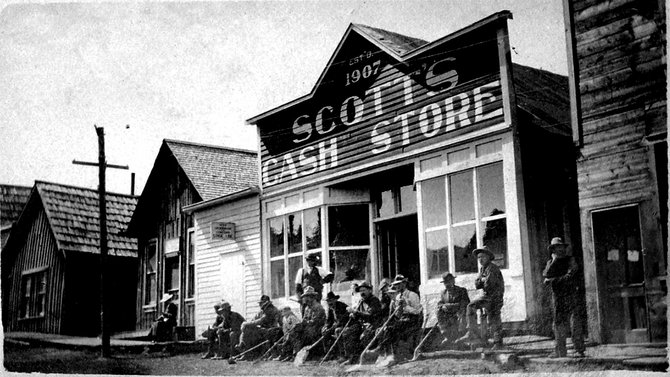 10 YEARS AGO
JUNE 23, 2004
•Ray Holes Saddle Company is celebrating its 70th anniversary this year. The store was started in 1934 by Ray and Lillian Holes.
•Grangeville High School student Greg Schmidt won an International Society of Poetry award with his poem, "Unforeseen World." He was notified he had been selected to read his poem at a convention in Orlando.
20 YEARS AGO
JUNE 22, 1994
•WOODLAND – Mid-June and we are soggy here at Kamiah as well as at Woodland! We here at Kamiah enjoyed some sunshine yesterday after a very windy spell the day before that brought heavy rain as well as some hail mixed in for a few minutes.
30 YEARS AGO
JUNE 20, 1984
•Border Days flags went up in Grangeville Monday evening, as a prelude to the festivities set for July 2, 3 and 4 this year.
In addition, Border Days committee members have been meeting frequently, including stints at the rodeo grounds where various chores are performed to update the grounds.
40 YEARS AGO
JUNE 26, 1974
•You cannot buy much with a penny today, but they are important for making change in these days of sales tax, parking meters and such. There is a temporary shortage of pennies, according to Harriman Henry of First Security Bank and Orin Robinson of Idaho Bank & Trust.
50 YEARS AGO
JUNE 25, 1964
•L.W. Minor, born in 1883 and who took first place in the Grangeville Border Days rodeo in 1912, will be back and in the parade here, he has informed Lou Bunting, secretary.
60 YEARS AGO
JUNE 24, 1954
•More older musicians are needed to fill ranks of Grangeville Cowboy Band for Border Days.
•A new bookkeeping machine and system for the Grangeville water and sewer departments will go into effect in July.
70 YEARS AGO
JUNE 22, 1944
•If coal users will order their supply now while the railroads can haul it, it will avoid rationing in the winter months.
•Housewives are urged to buy an extra dozen eggs to help save the temporary surplus.
80 YEARS AGO
JUNE 21, 1934
•Jacob Jansen, one of the remaining old timers of the Buffalo Hump gold rush, was in town from Warren. He estimates $1,000,000 in gold has been taken from the valley in the past three years.
90 YEARS AGO
JUNE 26, 1924
•A poker game played with 'friends' in Lewiston landed a drummer in the Idaho County Jail.
•Annual camp meeting of the Indians will take place on Mason Butte. Many spectators are interested.
100 YEARS AGO
JUNE 25, 1914
•(Headline from Free Press) "County Fair" is City's Greatest Home Folks Show. Over 100 persons take part in the cast of the show presented Wednesday night.
110 YEARS AGO
June 23, 1904
•The Standard says the lynching of Thomas M. Meyers was the "direct result of a quarter of a century of ill-enforced laws here in Idaho County" and the Republican ticket must be elected to remedy it. Ye Gods! We would be pleased to know how the lynching would have been prevented by the election of the various candidates placed on the ticket at the last general election by the Republican Party.
120 YEARS AGO
JUNE 22, 1894
•A man working on Shissler's contract on the Salmon River was knocked on the head by a rock from a blast and rolled into the river. His partner picked up a crowbar which was the nearest thing at hand, and flung it into the stream and told the fellow to hold onto it and keep afloat.