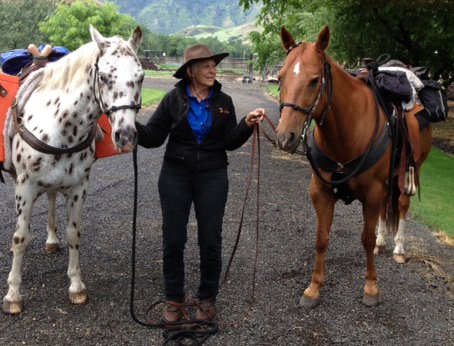 Contributed photo / Hetty Dutra
Hetty Dutra is reprising her 1994 ride down the Nez Perce National Historic Trail.
GRANGEVILLE — Twenty years ago, Hetty Dutra ventured out on the proverbial thousand-mile journey from Wallowa Lake, Ore. to the Bear Paw Mountains in Montana. This year, she is once again tracing the path taken by the non-treaty Nez Perce during the war, which broke out in White Bird during June 1877.
This year, Dutra is campaigning for trail maintenance. In 1994, she and several companions found the path well-maintained, well-marked and relatively easy to follow despite its prodigious length — nearly 1,200 miles.
The going has been rough so far — and not only because she's riding alone on quarter horse Shug, leading Cheetah, an appaloosa. (She has employed a backup driver throughout.)
The real difficulties, she said, have been poor maintenance and confusing signs.
"I think it's a travesty that a national historic trail is blocked up to where you can't ride," she said in an interview last Thursday, June 19. "You could hike it, maybe, but you still have to find it."
"I don't think I had the map with me in 1994, and there was no place it was vaguely brushy," she added.
At age 71, Dutra may cover as many as 1,450 miles in 4.5 months, she said, packing dehydrated food, a water pump, a whisperlite stove and an extra set of clothes — in all, about 100 pounds of gear borne by Cheetah's paniers.
On the trail 18 days, she came up Rocky Canyon with a landowner's permission.
She's had to go around some parts of the trail which cross private ground, but some of her requests for a place to cross or spend a night have been well-received.
"This first quarter, from here to Lolo, is the toughest country," Dutra said. "The people sure have been nice."
Facing a little more adversity this time around, she said she feels a greater sense of how hard the Nez Perce's desperate run toward Canada must have been. She said she's also sensitive to the fact that families who suffered loss during the Nez Perce War are still here. Mainly, she enjoys riding.
"I think the pace of our life is very fast," she said. "The first thing that happens is you slow up and begin to grasp what it might have been like in the old days."
As of last Sunday, she was stuck in Cottonwood until she finds a new backup driver: "I'll pay, plus food and other expenses including transportation home," she said.