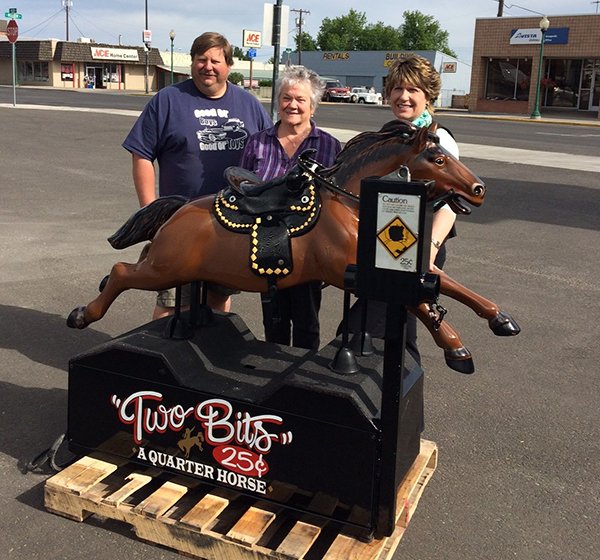 GRANGEVILLE — The dust has settled after months of hard work that has made Cash and Carry Market more spacious and appealing.
However, this renovation left a little something missing. One of the longtime staples of the store, the quarter horse, has been going through some improvements of its own. The lovable horse that is in childhood memories for many Cash and Carry patrons will be back with a brand new look, Friday, June 27. In celebration of his return, parents are invited to bring their children in for free rides from 11 a.m. to 6 p.m. Children are encouraged to show off their best western wear for pictures as they ride.
Along with a new head-to-hoof look, the horse will be sporting the new name Two-Bits; an old fashioned term for the cost of the ride. Such rides outside grocery stores have a tradition of bringing joy and entertainment to shopping, and this staple of the store would not have come back without the hard work of talented, local people. Cash and Carry offers a big thanks to Cross Country Saddlery, Camas Auto Body, Truck & Auto Paint Shoppe, Higgins' Signs, Quality Heating, Gem Design, Liz Clark and Mary Schmidt for working hard to breathe life back into Two-Bits, who will be at home at Cash and Carry for years to come.