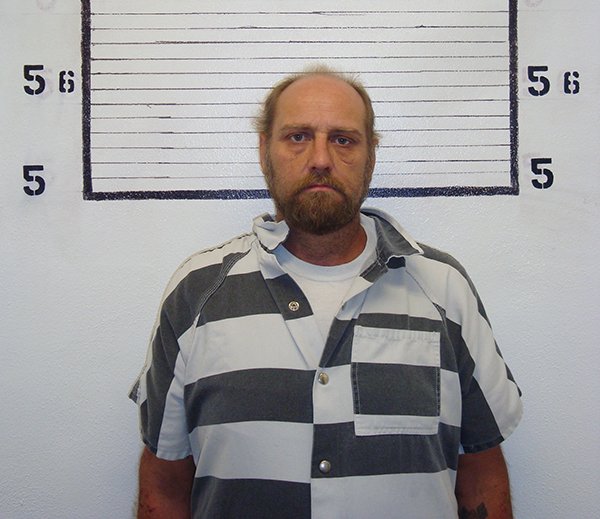 GRANGEVILLE – Testimony presented during Monday's preliminary hearing for accused second-degree murderer Jason A. Godwin suggested stolen firearms may have been a possible motive for the June 9 shooting death of Kyle A. Anderson.
Based on two and a half hours of testimony at the June 23 hearing, Magistrate Judge Jeff Payne determined probable cause was sufficient to bind Godwin, 48, of Kooskia, over to district court where he will make a formal plea to the felony charge. Godwin is tentatively set for an arraignment hearing next Monday, June 30, 1:15 p.m. He is held on $500,000 bail.
That same day, a second man alleged to have been involved in the incident, Ernest Ruiz III, 36, of Eugene, Ore., is set for his preliminary hearing in magistrate court, starting at 9:30 a.m. Bail is set at $250,000.
Charges against the pair resulted from the murder of Anderson, 41, who was shot in the neck and died outside his RV parked off Toll Road northeast of Kooskia. In the incident, reported at 10:25 p.m., Godwin is alleged to have shot Anderson with a .380 auto handgun from the driver's seat of his green 1997 GMC Yukon, in which Ruiz — allegedly in possession of a rifle — was a backseat passenger. Two other individuals were in the vehicle, but no charges have been made against them at this time.
At Monday's hearing, Anderson's girlfriend of eight years, Amanda Jones, 26, testified that on the night of the shooting she was behind Anderson, holding a Maglite, who was attaching a plate to their RV when Godwin quickly pulled up in his vehicle, slammed on his brakes, and began screaming at Anderson. Jones testified Anderson was surprised by the confrontation, couldn't understand what Godwin — who appeared very angry — was saying and told him to slow down and tell him what was happening. With only about a foot between Kyle and the vehicle, Godwin is then alleged to have shot Anderson once, according to Jones.
"Kyle started staggering and I asked him if he was OK," Jones testified. "He shook his head no and fell to the ground. I fell to my knees. I was crying, and I just sat there."
Jones testified that Godwin then allegedly pointed the gun at her head, asking her where the guns were that they stole, which she denied knowing anything about.
"He threatened to shoot me," Jones testified, "and I told him I have a kid." Godwin then told her to get the kid, she refused, and he went to pick up Anderson's body. At this point, she testified Ruiz exited the vehicle with a rifle, "and pointed it at me. He was shocked…. He didn't threaten me." Godwin was allegedly carrying Anderson's body to his vehicle, and Ruiz went to help him when he almost dropped it.
Two other people were in Godwin's vehicle, identified at the hearing by first names only: Beau and Carla. When the body was being moved, Jones said she ran to the other side of the RV for the door and testified hearing Godwin yell to Beau, "get the girl, she's getting away." She locked herself inside, heard someone try the door and stayed inside for approximately four minutes until she heard them quickly drive off. After this, Jones testified she and Anderson's 18-year-old son, Joseph, exited the RV, and she checked Anderson for pulse and breathing. She couldn't call 911 from her cell phone, so she searched Anderson for his keys and drove off to find help.
Deputy Keith Olsen, Idaho County Sheriff's Office (ICSO), testified he saw a green GMC Yukon – which he recognized as Godwin's due to his business name, "Jason's Ranch," on the back window— drive past him at Broadway and State streets around 10:30 p.m. Approximately five minutes later he passed Jones driving slowly down Toll Road, who flagged Olsen down to tell him her boyfriend had been shot. He arrived at the scene to find Joseph kneeling at Anderson's body.
ICSO Detective Brian Hewson testified he interviewed Godwin mid-morning June 10, who reportedly said he had left for Dudley, Idaho, the afternoon of the incident; however, confronted with a witness who put him at his Coachman camper home on U.S. Highway 12 near the west Kooskia bridge around 7 p.m., Godwin said, "OK, fine," and allegedly admitted to shooting Anderson in self-defense. Hewson said Godwin told him he and Ruiz went to Anderson's RV to recover a stolen revolver, reportedly belonging to a Woodland-area man, for a $500 bounty.
Hewson testified in his interview, Godwin allegedly stated Ruiz was a member of the Mexican mafia who had come to the region to "clean up the meth trade," and that Ruiz had information Anderson had heroin-laced meth. Hewson said the intent Godwin reportedly stated to him was to take it from Anderson "from getting to the public because it was messing people up." Hewson was questioned on finding any meth during the investigation; he stated none was found in Godwin's camper, and that they did not search Anderson's RV.
"He said they didn't intend on shooting him," Hewson testified, relating Godwin said that when they pulled up to the RV, Anderson pulled a gun on Godwin who then allegedly shot Anderson.
Jones testified Anderson had a .22 pistol tucked in the torn lining of his vest at the time of the shooting that was "inaccessible," but that he was holding no weapons, only a Phillips screwdriver when he was shot. She said she had bought the pistol three years ago from a newspaper ad. Godwin testified Ruiz picked up the pistol from the scene, which was recovered by investigators from Godwin's camper during a warrant search.
Idaho County Prosecutor Kirk MacGregor is handling the case. Public defender Chris Lamont is representing Godwin.