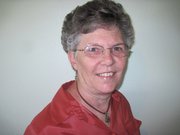 COTTONWOOD — The winners for Prairie Elementary/Jr. High spelling bee are Garrett Crenshaw, first place, and Brylee Wood, second place. Garrett will now compete in the regional spelling bee in Lewiston on March 8. Way to go!
PBS writers contest set
2014 PBS Kids Writers Contest is taking entries now. The closing datea is March 28. Children from kindergarten through third grade may enter. Grades K-first word count is 50-200. Grades second-third word count is 100-350. Stories must be the original work of the child. Original art can include drawings, collages, and 3-D created by the author or photographs taken by the author. Prizes will be awarded. Visit www.idahoptv.org/...
Congratulations to the Lady Pirates basketball team who are 1A Division I State Champions. We are so proud of you. Good luck to the Summit Academy boys' basketball team who are off to state.

Lauren Dillard, my granddaughter, was part of the team of cheerleaders from Jenifer Junior High who took first place in the Orofino Maniacs Cheer-off on Saturday. They did a great job.
There is still time to get tickets for the Lincoln Day Dinner to be held March 8 at 5 p.m. at Greencreek Community Hall. Tickets may be purchased at the door also. This is an election year so find out everything you can about the candidates.

Fr. Paul Wander is hosting a Bunco party after Saturday evening Mass on March 8 at Assumption Hall in Ferdinand at 6 p.m. All adults are invited, bring finger foods to share. Cost is $5/adult and the pot will be split. Come play Bunco!
Be sure to get tickets for the St. Mary's Hospital Mardi Gras coming up on March 22. It promises to be a gala affair consisting of dinner, music, auctions, casino games and dancing. Proceeds go to ER remodeling project. Tickets are available at the hospital or clinic.
All you little girls who want to be princess for a day should get your tickets for the "Little Princess Tea Party" presented by the Idaho County Royalty. The event will be held March 15 at Prairie Junior-Senior High School cafeteria on Keuterville Road in Cottonwood. The party will begin at 1 p.m. Cost is $6 for the princess, age 4 to fourth grade. RSVP by March 7: 962-3435, 962-7024 or 962-5516.