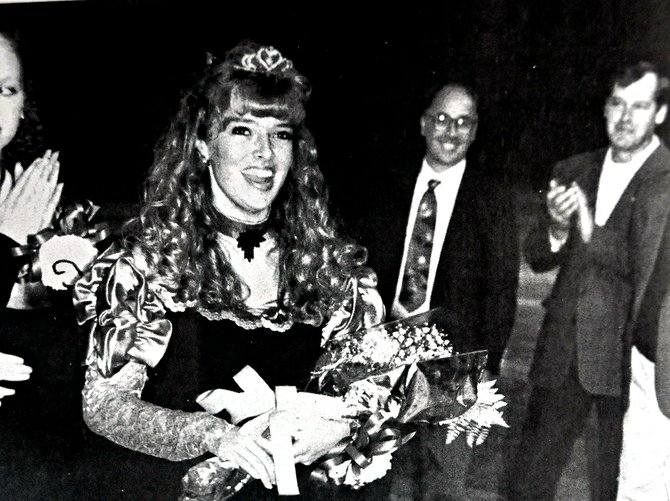 GRANGEVILLE — Movies such as "Mean Girls" and "Romy and Michelle's High School Reunion" may portray the popular homecoming queens as the snobby, nasty students, but that couldn't be farther from the truth for the year 1994 at Grangeville High School.
According to everyone who knew Dawn Arnzen then and knows the young wife and mother now, she is "one of the nicest, most genuine people you would ever meet."
It was 20 years ago, in 1994, that Dawn Arnzen was crowned GHS homecoming queen.
"I remember I was really excited and felt lucky just to be nominated by my classmates to be on the homecoming court," Dawn recalled. "It was an honor to be chosen as homecoming queen because it was voted on by the entire GHS student body and not something that is picked by a few teachers or a panel of judges."
She said it was an especially meaningful honor because the other girls on the court were all good friends of hers. The court also included Millie Walker, Wendy Baker, Evonne Waggenmann and Erin Link.
Dawn, the daughter of Chuck and Linda Arnzen, graduated from GHS in 1995. Following graduation she attended the University of Idaho and then transferred and graduated from Boise State University.
"I married Nolan Schoo whom I met and dated in high school – he graduated from GHS in 1992 and in 1996 from the U of I," she said.
After they married, they moved to Klamath Falls, Ore.

"We lived in Oregon for a year and wanted to move back to Grangeville to start a family," she explained. "Sometimes after moving away from where you grew up makes you really appreciate the great qualities of your hometown. We were both born and raised in Grangeville and knew that is where we wanted to raise a family."
They now have four children: Hunter, 13; Blake, 10; Presley, 4; and Colt, 2.

"So many people think that there are very few job opportunities in a small town, but now with the technology available you can come back to a small town to raise a family and make a living," she added. "My husband was able to start a company here in Grangeville [CompuNet] that now has 114 employees with eight different office locations in five different states that he manages from right here in Grangeville."
"I just want high school graduates to know it is possible to move back to a small town and your opportunities are endless," she said. "It's nice because several of our friends who we grew up with moved back to Grangeville after college and now our kids are growing up together!"