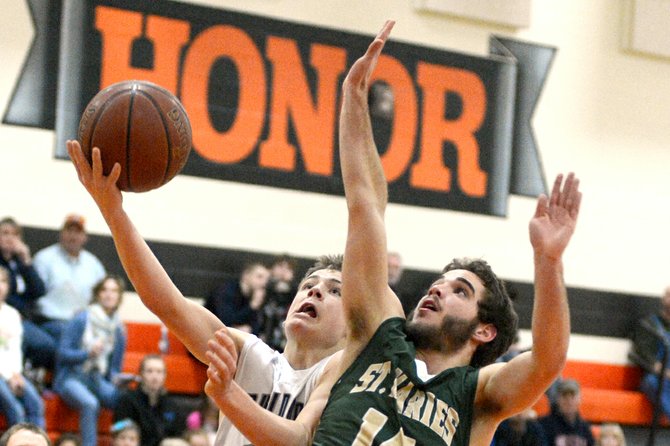 Photo by Andrew Ottoson
TROY — As five early lead changes would suggest, St. Maries put Grangeville into a bit of a wobble during the first quarter of the 2A District I-II title game last Thursday night, Feb. 27. But as the big run the Bulldogs delivered with a state berth at stake would suggest, the reigning state champions are capable of strong defense when they play balanced basketball.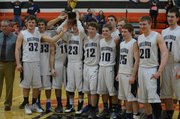 Grangeville's 15-2 burst during the first five minutes of the second quarter turned around a 7-9 deficit and boosted the Bulldogs to a 56-44 victory. Grangeville's lead reached 15 during the third quarter and 16 during the fourth, but the bulk of that margin was accumulated immediately after Lumberjacks post Leighton Gertje completed a traditional three-point play, starting with a game-tying short range shot by Jasper Sabatino.
Then Michael Wilson — who had exited the first quarter with two early fouls — converted an offensive rebound into a layup and an 11-9 GHS lead.
St. Maries made it 11-all, then the Bulldogs ripped off 11 straight points. Grangeville's possessions went as follows: a Wilson jumper; a Wilson baseline dribble-drive; a Sabatino jumper assisted by Austin Parks; a barely mistimed stick-back dunk attempt by Wilson off a long miss by Parks, which led to a Wilson jumper; and an "and-one" layup by Alex Koberstein.
St. Maries answered by posting up Gertje for two plus a foul shot, which he missed.
Grangeville's defense stayed tight, giving the Bulldogs' transition offense chances to break loose. Josh Dame punched in a fast break layup, then tallied two free throws, then Garrett Kennedy booked a layup-and-one. Dame dribbled end-to-end for a layup and a 31-19 halftime lead.
St. Maries cut Grangeville's lead briefly to nine during the third quarter, but came no closer.
Dame led all scorers with 20 points. Wilson cracked double-digits with 15.
Coming — With the district championship squared away, Grangeville (19-4) is set to take on Wendell at 8 p.m. MT. Thursday, March 6, at Capital High School in Boise. However GHS fares, the tournament will continue, culminating with the 2A championship game at 1:40 p.m. MT Saturday, March 8. With a first-round win, GHS would play the Firth/Melba winner at 8 p.m. MT March 7.