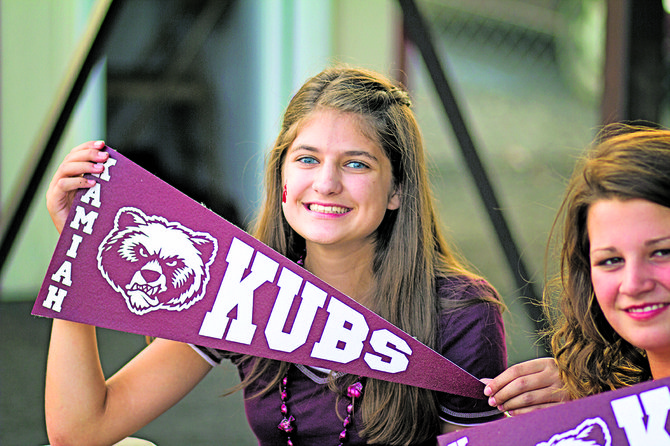 KAMIAH – Kamiah Joint School District 304 patrons will head to the polls Tuesday, March 11, to decide on a $650,000 supplemental levy for the 2014-15 school year.
Deadlines for March 11 school levy elections
Wednesday, March 5, is the last day county election offices can accept absentee ballot requests for mail-out.
Friday, March 7, is the last day to vote in person at the courthouse.
Concerning the March 11 elections, the Idaho County Courthouse elections office reports it has received as of Monday, March 3, 50 absentee ballot requests – all from Kamiah.
The district will ask voters to help fund a variety of items. These include smaller classroom sizes ($130,000), support staff ($25,000), extracurricular activities ($115,000), all-day kindergarten ($65,000), high school offerings ($88,950), technology supplies and equipment ($55,000), textbooks and classroom supplies ($32,900), libraries ($90,150) and busing ($48,000).
Kamiah has had many failed levy attempts in the past several years although it did pass a one-year levy for $100,000 in 2006. In contrast, several surrounding districts have passed levies each year including Mt. View School District 244 in Grangeville (since 2007), Nezperce (since 1991) and Orofino (since 1999).
Kamiah's levy will cost a homeowner with a home valued at $100,000 (after homeowner's exemption) $333.98 for the year or an extra $27.83 per month. A $150,000 home would cost $500.96 a year or $41.75 per month and a $200,000 home would come in at $667.95 a year or $55.66 per month.
"I am a firm believer that the only way to make a better future for our children is to make sure that they have every opportunity to receive a quality education," said Kamiah zone three trustee Luanne Howard. "I am passionate about enabling and supporting our young people to be all that they are capable of being, education is a key component of that process, which is why I feel so privileged to serve on the school board!"
"I am where I am today because of the influence of wonderful teachers and adults who cared enough to challenge and provide opportunities for me," Howard added. "It is the least I can do to pay it forward."
Where to vote:
Those voting can do so Tuesday, March 11, 8 a.m. to 8 p.m. (a sample ballot is printed in this week's Free Press under "Notices" in the B section).
Voting takes place at the following locations: For Lewis County residents - Emergency Service Building in Kamiah; Idaho County – Big Butte and Kooskia (mail out); Glover – Glenwood School; Kamiah precinct – The Life Center; and Woodland – The Woodland School.
Those who are unsure of their precinct or who have questions about absentee ballots can stop by the school's district office on Main Street or call 935-2991.
In other levy news for March 11:
Highland Joint School District No. 305 (Craigmont) will ask patrons to support a $499,000 supplemental levy.
Nezperce Joint School District 302 will ask voters to support a $400,000 bond election resolution (issuing bongs not to exceed $400,000). The bonds will be used to provide improvements to district facilities. The term of the bonds will not exceed 11 years.