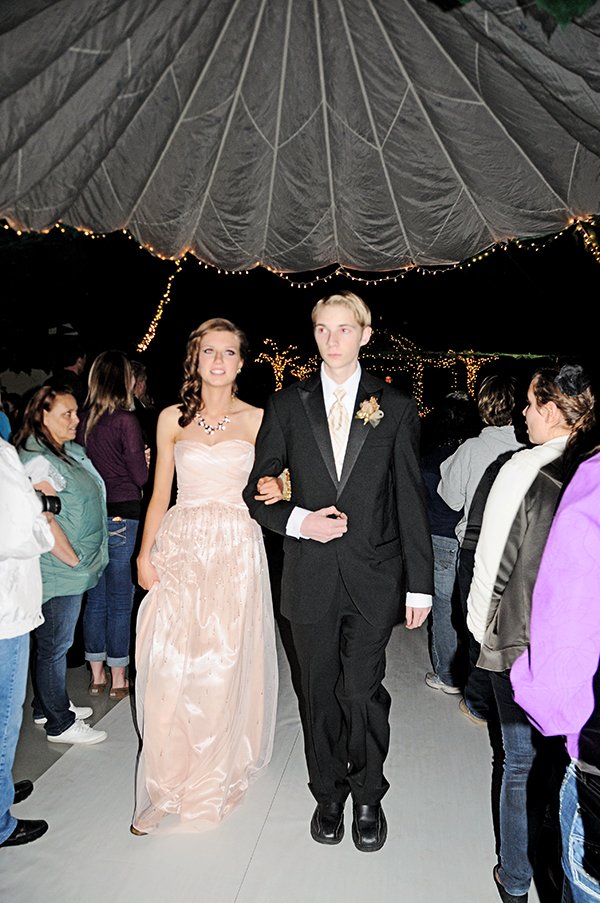 Photo by Lorie Palmer
The Princess Project hopes to make it possible for all students to enjoy prom, such as these students who attended Grangeville High School's prom in 2013. The project gives away prom attire to students.
KAMIAH — It's time for prom and your daughter doesn't have a dress to wear. What do you do?
Thanks to a group of local volunteers, a solution to this problem is becoming a lot easier than a trip to Spokane or Boise.
The Princess Project is an international program that has expanded into Idaho. It is open to all teen girls from the area including Orofino, Weippe, Pierce, Kamiah, Kooskia, Stites, Grangeville, Cottonwood, Nezperce, Winchester, Craigmont and Greencreek.
Local people donate previously owned formal dresses which are then given to local girls for proms and other formal dances.
"This is for high school aged girls, but if we bring in enough dresses we could also help out girls who need a dress for eighth-grade graduation," explained organizer Dottie Newman of Kamiah.
The Princess Project has been in existence for about a decade with projects all across the U.S. Newman is working with Dona Stanly out of Montana.
"All of the dresses are completely free to the girls," explained Newman.
How does it work? It starts with a dress drive which is ongoing now through March 22 for the area. People can donate gently used formal dresses as well as accessory items such as those from sorority events, formal dances, pageants, weddings and cruises.
"In addition, any items such as shoes, purses, shawls and jewelry donated will be made available too," Newman explained. Items for boys such as ties, cummerbunds, vests, tuxedos and shoes are also sought.
"All items that are donated from the public will be given away to our local kids," Newman added.
Newman emphasized the program is not just for "needy" kids.
"Our goal is that every kid who wants to go to prom has what they need to participate," she said. "We want kids to be able to go to prom financially but also as a stress-free, fun time and this helps with a lot of those details that can make it stressful instead of happy."
Following events, kids can donate the items back to the project to be re-used by other students.
The dress and accessory giveaway is set for Saturday, March 22, noon to 6 p.m., at the Sacajawea Café, 4243 U.S. Highway 12 in Kamiah.
To donation items call 935-5399. See The Princess Project at www.facebook.com/AnacondaPrincessProject.