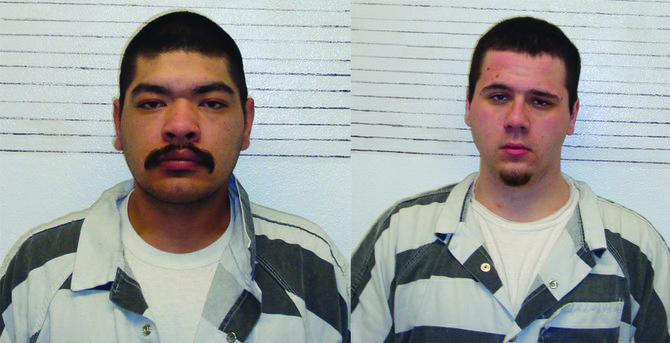 GRANGEVILLE – Peter Lujan, 29, and Anthony Ramirez, 19, both of Grangeville, were arrested Tuesday, March 4, on felony drug charges following a warrant search at two north side residences.
Lujan is being held on a $25,000 following his warrant arrest for three counts of delivery of a controlled substance. Ramirez was arrested for two counts of delivery of a controlled substance and is being held on a $50,000 bond. Both are in the Idaho County Jail pending a court hearing.
According to a release from the Idaho County Sheriff's Office (ICSO), search warrants related to unspecified drugs were served on residences at North D Street and West North 5th Street. Neither residence was occupied at the time of the warrant service; Lujan and Ramirez were subsequently arrested elsewhere. Warrants were obtained following a joint investigation by ICSO and the Grangeville Police Department.
Search warrants were served by the ICSO Sheriff's Emergency Response Team (SERT), GPD, Idaho Department of Corrections CERT and Idaho Fish and Game law enforcement officers.