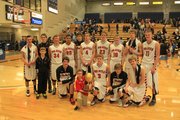 Lapwai led the district championship game last Wednesday night, Feb. 26, by as many as seven points, but Prairie, unphased by a couple of early treys, rallied to within a point before the first quarter ended. After Lapwai's Kevin Tannehill picked up his second personal, PHS ran away with the 1AD1 District II title, 62-49.
Lapwai's scoring slowed dramatically after Rhett Schlader set Tannehill with two quick fouls and tied the contest, 18-18, with a free throw. Prairie used a 6-0 run to pull ahead and Tanner Ross converted a layup off an alley-oop pass to widen it to 30-21. Ross led all scorers with 19 points; Schlader (13), Lucas Arnzen (13) and Jake Bruner (11) scored double-digits.
Coming — Prairie (21-1) will face Glenns Ferry at 1:15 p.m. MT at Vallivue High School in Caldwell.
With a win, the Pirates would meet the Notus/Genesee winner at 6:15 p.m. MT on Friday, March 7. The 1AD1 championship game will be played at 11:30 a.m. at the Idaho Center in Nampa.
All tournament games will be broadcast live on idahosports.com.