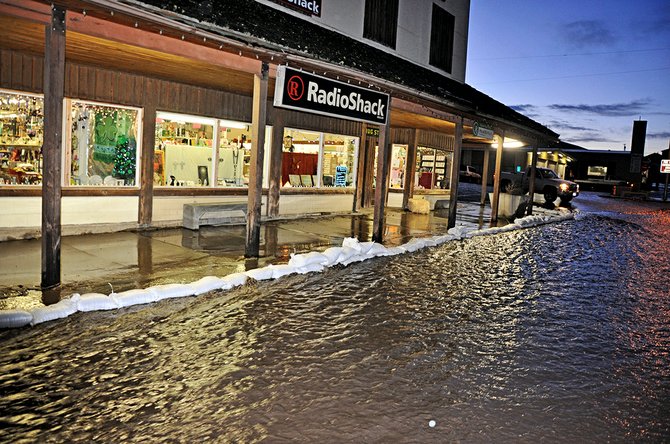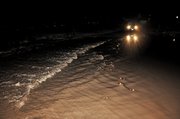 COTTONWOOD – Main Street turned into a river Monday evening as rainfall coupled with snowmelt overwhelmed both Cottonwood Creek and city storm drains.
As of press time Tuesday, no flood damage was so far being reported by downtown businesses from the March 3 event, according to Cottonwood Police Chief Terry Cochran.
"I'm just glad we had plans in place to deal with it," Cochran said, "otherwise, we would have had water in those businesses."
Those plans kicked in starting around 4 to 4:30 p.m. when runoff from snowmelt was aggravated by a deluge of rain, according to Cochran, and flooding was reported on the west end of town.
"We notified NICI [North Idaho Correctional Institution] as part of our city emergency plan," he said, which sent an 11-man inmate work crew for sandbag filling and placement duty. By 5:30 p.m., Cottonwood Creek started overflowing over the top of the culvert at Main and Lewiston streets, and water was soon knee deep downtown.
"Water was coming out of the storm drains," Cochran said at multiple locations. "It was more than they could handle."
Along with NICI, crews with the Cottonwood Highway District, City of Cottonwood, volunteers and business owners worked placing hundreds of sandbags one to two high, along with straw bales, along the south side block of Main Street. As well, sandbags were placed at the front of Lewiston Street to divert waters into the roadway. Some flooding entered into Fred's Body Shop, however, sandbags were placed in front that prevented water entering further in the building, according to Cochran.
"It got pretty deep for a while," along Main Street, Cochran said, and it was by 7:30 p.m. the waters receded.
No city property was reported damaged, apart from a 20- to 30-foot washout around the Maple Street culvert. Runoff across this street was reported at 4 to 6 inches deep, he said. City crews were currently working to clear out storm drains.
"We're going to leave the sandbags in place, just in case," Cochran said, as weather forecasts were calling for more rain and warmer temperatures.
The National Weather Service in Missoula was reporting changing conditions through the region this week due to warmer air eroding colder valley air. Rapidly changing precipitation from snow to rain to freezing rain will be common. Wet snow and rain on snow-drifted roofs could result in increased weight and loading.
Farther north, the Idaho County Sheriff's Office received a report that Ferdinand's Main Street was flooded under the bridge near the intersection with U.S. Highway 95. No further reports were available.