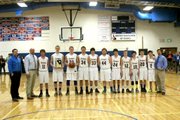 With three state titles — a football title, a basketball title and another football title — to their credit since the autumn of 2013, Salmon River tacked on a 1AD2 District III title with a cutting victory over Ambrose last Thursday night, Feb. 27.
Ambrose's Travis Yenor (26 points) proved a match for Leighton Vander Esch (14 points), but the Savages proved more than a match for Ambrose, winning by a dozen, 52-40, after drawing out a 27-26 halftime lead.
Jimmy Shepherd posted a team-high 17 points against Ambrose, draining four three-pointers in the process.
Under different circumstances during the district semi-final — with Vander Esch slowed by fouls — a dozen points separated the Savages from Horseshoe Bend — a team Salmon River had repeatedly clobbered during the regular season. Horseshoe Bend trailed the Savages by six at halftime on Feb. 25, but took a 40-39 lead into the fourth quarter.
That scare sent Salmon River into a 15-2 run during the final frame — a highly productive stretch by any measure, nearly in line with the Savages' regular season offensive output against their fellows from the Long Pin Conference.
Coming — Salmon River (20-2) will meet Carey at Caldwell High School at 8 p.m. MT March 6. With a win, SRHS would play at 3 p.m. March 7.