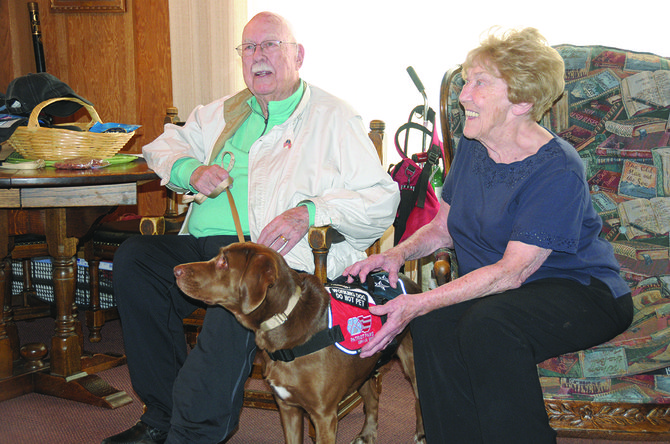 Photo by Lorie Palmer
Wayne and Nancy MacGregor are pictured here with the newest member of their family: service dog Hamilton who recently came to Grangeville from Patriots Paws in Texas.
GRANGEVILLE — One Grangeville pooch has earned his dog biscuits lately.
Saturday, March 1, Wayne and Nancy MacGregor's service dog, Hamilton, ran into the family room where Wayne was sitting and pawed Wayne's foot then backed up and looked at him.
"At first I just thought he was trying to play," Wayne explained. The MacGregors acquired the dog from Patriots Paws in December 2013. "But when he kept doing it, I remembered reading about a command in my paperwork that the command for 'follow me' was pawing at the foot, so I thought I better follow him."
Wayne followed a frantic Hamilton to the garage where he found Nancy laying on the floor.
"It was about 14 degrees and she told me she had been yelling for me for about 20 minutes," Wayne shook his head. "I don't know what we would have done without Hamilton."
The young lab ran immediately to Nancy's side and waited for Wayne to call for help. Nancy had a compound fracture in her leg/thigh and was life-flighted to Sacred Heart. She has since been taken to St. Luke's Rehabilitation and Wayne said she will be home within a week.
"What a smart dog," Wayne beamed, petting his dog.
Hamilton turns lights on and off and gets soda pop from the fridge – opening and closing the door of the refrigerator – but nothing can compare to him leading him to Nancy, Wayne said.
"But this is the best thing – he saved Nancy and that's worth it all," Wayne smiled.