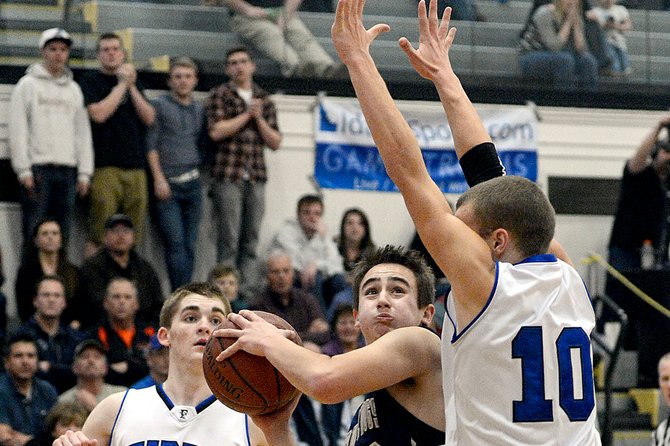 Photo by Andrew Ottoson
With 20 seconds left in Grangeville's semifinal game against Firth, junior Jake Stokes drove for a layup attempt and drew this two-handed foul from Firth's Braydon Adams. The shot found the iron and bounced away, but Stokes canned both free throws to keep Grangeville's 2A title hopes alive for one more possession. Needing a three-pointer to tie it at 44 with less than 10 seconds to go, Stokes ferreted out a rebound, dribbled out to the arc and put up a triple try that barely missed.
BOISE — Josh Dame came to play. Grangeville's high-scoring senior guard put up team-high totals every night of the 2A state championship tournament, none more crucial than a game-tying basket with about 40 seconds left in regulation during a first round matchup with Wendell.
When the Trojans blew a chance to take the lead with six seconds to go — they grabbed a defensive rebound and made a sharp play to score on the counterattack, only to be undone by a time-out their coach called from the bench the moment his boys gained possession — the game went to overtime.
Alex Koberstein came ready as well. When the Wendell game went to a second overtime, the senior forward delivered a knockout scoring punch, sending the Bulldogs to a semifinal matchup against Firth. He notched six points of 13 Grangeville scored to finish off Wendell 77-65 last Thursday night, March 6, at Capital High School. Firth ended Grangeville's title defense by dodging daggers at the end of a 44-41 semifinal Friday night, and Grangeville hammered Soda Springs in the third-place game, 64-52 on Saturday.
Koberstein and fellow senior forward Jasper Sabatino delivered nine points apiece against Wendell.
When Grangeville fell behind early in the second overtime, Sabatino stepped up to tie it. He had an even better sequence late in the game against Firth, as the Bulldogs clawed their way out of a 10-point hole.
Dame cut it to eight with a jump shot and pulled briefly within six before a couple of Firth foul shots left GHS trailing 40-32 with less than three minutes to go. After a Bulldogs timeout, Grangeville lost possession — a devastating turn had Sabatino not come up with a steal on Firth's ensuing inbounds set, drawing a foul to boot.
A moment later, Austin Parks scored on a dribble-drive, and a moment after that, Sabatino finished a layup, drawing Grangeville within four points.
The Bulldogs lingered within five after Dame hit a foul shot with 1:11 left, and Firth nearly ended it by breaking Grangeville's press, only for the layup to be blocked.
Then Jake Stokes stepped up.
Grangeville cut it to three with Stokes driving for a score, and cut it to one when Stokes drove, drew a foul and hit a pair of clut free throws with 18 seconds remaining.
Firth missed a foul shot at the other end, leaving Grangeville one last possession, which the Bulldogs turned into two cracks at tying the game.
Dame put up a three-pointer and Stokes tracked down the rebound in traffic, dribbled out of a crowd to the arc, and put up a trey that would have knotted it at 44-all had it gone in.
Against Soda Springs, Grangeville leaned heavily on Dame (17 points), Michael Wilson (16) and Stokes (12) to provide offense.
Baskets came early and often against the Cardinals, as Grangeville rattled off 32 points during the first 16 minutes and carried an 11-point lead into halftime.
Dame totaled a team-high 46 points in the tournament; Wilson totaled 34.
The Bulldogs scored 32 more in the second half and cruised to their 20th win of the season.