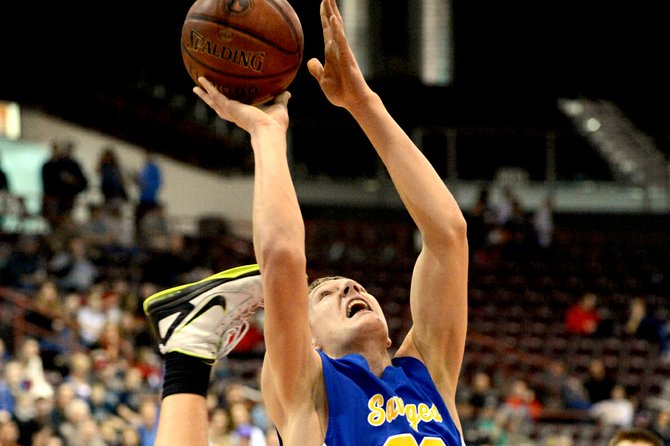 Photo by Andrew Ottoson
What's the opposite of being caught flat-footed? Ambrose's Travis Yenor found out after Salmon River's Leighton Vander Esch combined a ball fake with a powerful continuation to draw a foul that sent Yenor tumbling headlong out of the play. Even after Vander Esch's free throws, Salmon River trailed by two, 17-15. Yenor matched Vander Esch score for score through the first half, but Vander Esch ultimately outscored him 37-29.
NAMPA — Salmon River's freshly-finished football and basketball championship quartet spanned about 14,000 hours in the making, yet came down to the final minute of the 1AD2 boys basketball final: a 63-59 win over Ambrose last Saturday, March 8, at the Idaho Center.
"I feel like the weight of the world has been lifted off my shoulders," Savages coach Charlie Shepherd said. "It'd be neat to see some of these same boys get championship in track, our 4x400 team in particular. But that's all a bonus. The pressure is off."
With about 10 seconds left, Ambrose's top gun, Travis Yenor, fired a three-pointer to cut a late Savages lead down to one possession. With five seconds to go, Salmon River's Mr. Reliable, Leighton Vander Esch, stepped to the line for two free throws and buried Ambrose's comeback bid once and for all.
Behind Yenor, Ambrose led from the start until about two minutes into the second quarter — and the Archers threatened to put the game out of reach early with back-to-back baskets by Yenor late in the first quarter. Vander Esch scored the next five points on a trey late in the first followed by foul shots (on the play pictured at left) early in the second.
Yenor scored again, but Vander Esch found Terrun Zolman for back-to-back layups on back-door cuts, tying the game at 19-19.
Vander Esch followed with a three-pointer for Salmon River's first lead; Yenor answered with a tying three, and Zolman answered with a three to restore the Savages lead, 25-22.
Eason Boeck revived Ambrose with three threes, which kept up the Archers' lead as the second quarter ticked down to one minute.
Jimmy Shepherd put Salmon River back in front, 34-33, with a triple before halftime, but Yenor posted up for a lead-changing layup at the buzzer.
Salmon River vaulted back into the lead when Vander Esch dunked on consecutive possessions midway through the third quarter. After an Ambrose time-out, Vander Esch sank a triple from the top of the key for a 46-41 Savages advantage; he and Nolan Richerson followed with layups to keep the lead at five starting the third quarter.
Faced with an opportunity to fade after Zolman nailed a trey, Ambrose ripped off a 9-2 run to draw within a point, 55-54, on a coast-to-coast layup by Jaxon Hughes which began with a Salmon River turnover. Leading by that narrowest of margins with a minute left in the contest, Richerson scored a couple of crucial free throws, then added a crucial layup to raise the Salmon River lead back to five.
"Ambrose shot the ball really well," Shepherd said. (The Archers hit 45 percent of their threes despite a poor second half performance at the arc.) "We showed composure at the foul line, Leighton and Nolan especially. Leighton once again proved he's a big-game player in football and basketball. His second dunk took wind out of their sails and gave us energy, and kind of got in their head. Their shooting percentage started going down after that."
Beyond all the offense, Vander Esch also made the defensive play of the game: a thunderous block late in the fourth quarter.
During the banner presentation after the game, Shepherd reminded the crowd that Vander Esch is, after all, the reigning 2013 1A "player of the year" as selected by the Idaho Statesman and suggested Vander Esch could and should soon be named the same a second time.
Vander Esch was recently named to North Idaho College's all-Idaho basketball team; he has committed to play football at Boise State next fall.
College's all-Idaho basketball team; he has committed to play football at Boise State next fall.
Salmon River 59, Kendrick 32
CALDWELL — Leighton Vander Esch scored 29 points, and Kendrick fell out of contention in the 1AD2 semifinal round last Friday, March 7. The Tigers impending defeat became apparant almost immediately after Vander Esch's third basket — a three that reversed Kendrick's early lead, making it 8-5 Salmon River. Jimmy Shepherd and Terrun Zolman followed with threes, yielding nine points on three Savages possessions, good for a 14-7 lead.
Shepherd hit another trey before the first quarter expired, and the rout continued as Salmon River outscored the Tigers 15-7 during the second quarter.
During the third quarter, Kendrick competed far more effectively against Salmon River's three-man game, in which Vander Esch stationed on the left block with Shepherd in the left corner and Zolman at the arc on left wing. Kendrick hedged away from the other Savages on the court, but did so without allowing many easy scoring chances.
Salmon River went back to gunning during the fourth quarter, outscoring Kendrick 14-4 in the final frame.
Shepherd finished with four triples and 13 points as the only other Savage in double-digits; Vander Esch nabbed 15 defensive rebounds (18 total rebounds).
Salmon River 65, Carey 45
CALDWELL — Carey collapsed during the second quarter of the 1AD2 tournament opener last Thursday, March 6, at Caldwell High School.
Salmon River put three players — Leighton Vander Esch (27 points), Terrun Zolman (16) and McCoy Hale (10) — in double-digits. Jimmy Shepherd tallied nine on an off-night for Salmon River's three-point shooters.
Leading 16-11 after one, Salmon River widened the gap to 18 points with a 24-point surge during the second period.
The Savages eventually fouled out Joe Parke, Carey's second-leading scorer, and contained high-scoring six-footer Nate Adamson, who nevertheless scored 20 in a losing effort.
Late in the fourth quarter, the Savages lost Hale to an ankle injury that kept him sidelined against Kendrick and kept him out of the starting lineup against Ambrose.