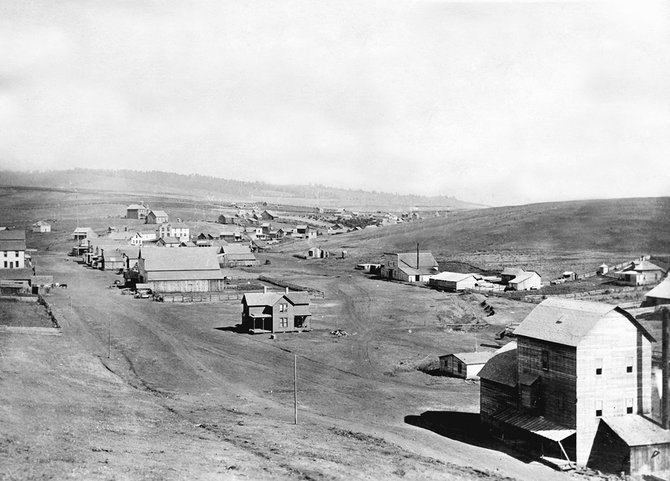 10 YEARS AGO
MARCH 10, 2004
•Corporal Carlos Martinez of the Idaho County Sheriff Department was advanced to the detective division effective March 1. Martinez has worked as a patrol deputy for three-and-one-half years out of the Kooskia substation.
20 YEARS AGO
MARCH 10, 1994
•Chuck Arnzen, a package delivery driver for United Parcel Service, was recently recognized by the company for completing 15 years of daily deliveries without an accident.
Arnzen works out of the UPS facility in Grangeville. He delivers to Grangeville, Cottonwood, Craigmont and Nezperce. He once held the national UPS record for the most towns delivered by one driver on one day.
30 YEARS AGO
MARCH 7, 1984
•The Camas Prairie Railroad closure proposal drew opposition and various actions by a variety of groups on and off the prairie.
•In Lewiston, a group of steam buffs have announced their intentions of operating a passenger steam railroad over the Camas Prairie line. The group is hoping to have the branch line to Grangeville put on a live steam excursion-tourist train "on line" operation for the summer tourist season.
40 YEARS AGO
MARCH 13, 1974
•Relying on superb defense, superior rebounding and outstanding teamwork the Grangeville Bulldogs overpowered the Wood River wolverines 59-52 to capture the Idaho State A-2 tournament championships in the final game last Saturday night at Boise's Capital High School. The state title was the first ever for GHS in any team sport and capped a long awaited quest that started with the school's first state entry way back in 1938.
50 YEARS AGO
MARCH 12, 1964
•KOOSKIA – A lynx escaped from its lashing under a canvas in a pickup parked in Kooskia and sent citizens scurrying into cars or off the street.
60 YEARS AGO
MARCH 11, 1954
•Stan Wright and Dick Roberts are more than pleased with the strong TV signal they have discovered south of Grangeville. They are looking for sites to pipe in reception through coaxial cable.
70 YEARS AGO
MARCH 9, 1944
•Riggins Chamber of Commerce approved the bylaws and the name Riggins Chamber of Commerce although members will include residents living up the Big Salmon and Little Salmon rivers and in the Cow Creek and John Day districts.
80 YEARS AGO
MARCH 8, 1934
•POLLOCK – Loren Clay is the owner of a Ford V-I pickup purchased from Brown Motor Co.
•WARREN – Roy McGovern held the correct number for the silverware given away at the dance.
90 YEARS AGO
MARCH 13, 1924
•A gold brick valued at $9,000, the result of a short mill run at the Wilcox and Walker mine in the Marshall lake district, was taken to Boise recently.
•In the appointment of James F. Ailshie, Jr., former Grangeville boy, as assistant U.S. District Attorney for Idaho, an unusual distinction has come to a man so young. He was 24 March 10.
100 YEAR AGO
MARCH 12, 1914
•Moongazing was a popular diversion; the cause being a partial eclipse of the moon.
110 YEARS AGO
MARCH 10, 1904
•Grangeville City Ordinance No. 18 – It shall be unlawful for any person, firm or cooperation to kill, butcher or dress any beef, veal, sheep or hog, or maintain kettles for rendering lard or tallow at any place upon blocks two north of Main or two south of Main. Violations will bring a fine of not less than $20 nor more than $100.
120 YEARS AGO
MARCH 9, 1894
•The influx of settlers will be very great this spring. Unfortunately they are nearly all desperately poor men with large families and this is a good country for all such to stay away from.