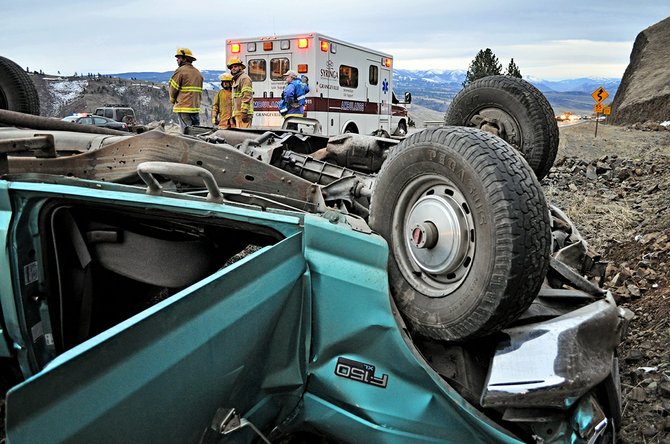 Photo by David Rauzi
Randy Latimer's Ford pickup lies across the shoulder on U.S. Highway 95 after overturning to avoid traffic that was slowing down at the scene of a prior accident that turned into a car fire.
WHITE BIRD — Emergency personnel were already enroute last Saturday evening to a one-car injury crash and subsequent fire on the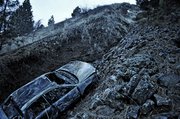 White Bird summit when a second vehicle coming onto the scene lost control and overturned, seriously injuring the driver.
As of press time, Randy A. Latimer, 61, of Grangeville, was listed in critical condition in the intensive care unit at St. Joseph Regional Medical Center in Lewiston. The other victim, Jeremy R. Kannenberg, 28, of Boise, was transported to Syringa Hospital in Grangeville where he was treated and released.
Multiple medical, fire and law enforcement agencies dispatched to the scene on U.S. Highway 95 March 8 following a 4:31 p.m. report of a southbound 1998 Buick Century that had crashed into and over the guardrail at milepost 230 and caught fire.
At the time, Kannenberg had failed to negotiate a curve and his Buick traveled into the right-hand gravel pullout where, according to Idaho County Deputy Mike Brewster, he failed to provide any operator input for nearly 150 feet. At this point he attempted to maneuver back onto the roadway but overcorrected, causing the vehicle to rotate counterclockwise, cross both lanes where it struck the guardrail broadside and vaulted over where it was airborne 90 feet before it hit the top edge of the embankment. The Buick again went airborne, collided with a tree approximately 100 feet down the embankment, rotated clockwise and continued nearly 300 feet through some boulders before coming to rest and catching fire. Kannenberg was wearing a seat belt at the time.
"At some point he got out and climbed to the top," Brewster said, whether alone or assisted was not known.
Nine minutes later from the initial crash report, Latimer was driving a 1994 Ford F150 pickup northbound when he failed to see a vehicle in front of him braking at the accident scene. He overcorrected to the left, causing the pickup to hit the hillside and overturn onto its top on the southbound shoulder. He was not wearing a seat belt.
Lifesaving measures were implemented on Latimer in the Syringa Ambulance, at which point he was transferred to a LifeFlight helicopter waiting at the scene and taken to Lewiston.
Alcohol was listed as a possible factor in Kannenberg's accident, according to the ICSO report. Currently, citations of inattentive driving and driving without privileges are pending against Kannenberg.
The Kannenberg and Latimer accidents were investigated separately by Brewster and Idaho State Police, respectively, assisted by the Grangeville Police Department and Idaho Fish and Game. Syringa Ambulance and White Bird QRU, along with the Grangeville Rural Fire Department responded to the scene. Dale's Rescue Towing provided wrecker services for Latimer's pickup; retrieval of Kannenberg's vehicle, gutted by the fire, was pending.