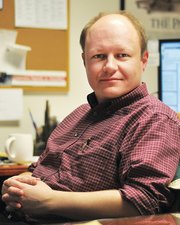 Yet more proposed federal legislation? Yep, and this time it's on gun owner data collection.
But there's a couple reasons to get behind this, neither of which specifically deals with guns.
First, the Gun-owner Registration Information Protection Act (yes, this is the GRIP Act) would prohibit any federal funding being used to support a gun registry created and/or maintained by non-federal entities, including state and local governments. The legislation does not include any limitations related to state recordkeeping for permitting, law enforcement-issued firearms or lost or stolen firearms.
"Storage of such information in so-called gun registries is simply a gross invasion of privacy for citizens lawfully practicing their constitutional right," stated Idaho's Senator Mike Crapo (R), a co-sponsor of this bill
On our end, this is a matter of keeping data secure from the nebulous intentions of our nanny government, which more and more has been caught being nosy rummaging in information it has no business looking into. This legislation looks to keep Uncle Sam from doing an end-run around the laws to get information it's not supposed to store during the firearms background check process.
And second, what else is there to like about this legislation? It's short; it's not poetry, OK, but it is literally one line:
"No department or agency of the United States shall support, by funding or other means, the establishment or maintenance, by a State or political subdivision of a State, of any comprehensive or partial listing of firearms lawfully possessed or lawfully owned by private persons, or of persons who lawfully possess or own firearms, except in the case of firearms that have been reported to the State or political subdivision as lost or stolen."
Not much ambiguity here, and so much more portable than other laws we could mention that have been vomited upon us by the brain trust in Washington, D.C.