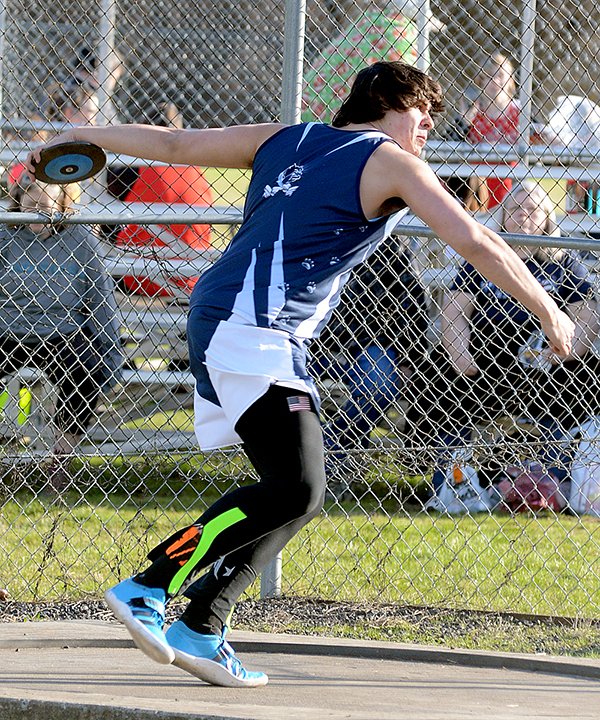 LEWISTON — Grangeville's team scores at the Lewiston Invitational last Saturday, March 22 cast shadows not to be overlooked, for lurking within their collective places — fourth for the girls, sixth for the guys — were outstanding individual showings.
On the boys side, Drew Lindsley won the discus outright with a throw of 163 feet-even — which would have been the best reported in the classification so far, if not for the even better discs (including a personal record 167-2) he threw in the opener March 18 in Kamiah.
Quaid Blankenship, by clocking a 2A-leading 41.18 automatic time in the 300 meter hurdles, placed second in the deep field last Saturday. That time sliced more than three-tenths of a second from Blankenship's 2014 opener as he works to overhaul his 2013 state runner-up 40.86, which is his intermediate hurdles PR.
Blankenship also booked top-four times at Lewiston in the 100 (11.66) and 200 (23.97), both of which maintain his standing as a top-10 sprinter in the 2A ranks. Blankenship placed third in the state in the 100 and second in the 300 hurdles.
Danny Paluh placed fourth in the high jump (5-6) last Saturday; Michael Stevens placed fourth in the triple jump (39-1).
On the girls side, Hailey Sullivan and Kaleala Bass teamed with Sarah Wilson and Erica Fortin to run away with the 4x200 relay, finishing in 1:51.77 — three-tenths faster than a quartet from Post Falls. The Grangeville four placed fourth in the 4x100 (53.94)
Individually, Sullivan won the 200 (27.32) and placed third in the 100 (13.47) at Lewiston, with times competitive in comparison to top 2A performances reported thus far.
Bass placed fourth in the 200 (27.96) and won the 400 (1:02.88) — an event in which she placed third at state last year. Bass has not yet run the 800 — an event in which she also placed third in the state in 2013.
Madison Brown — who as a freshman broke in to the 2A top 10 in two 2013 distance jump state finals — placed first against local competition in both events of her sophomore season opener. She covered 15 feet, 5¼ inches in the long jump and 32-5½ in the triple jump.
Coming — Grangeville, spring breaking this week, will return to competition at 4 p.m. April 10 at Orofino. The Bulldogs also have meets at Moscow, at Middleton, and twice at Kamiah set for next month.