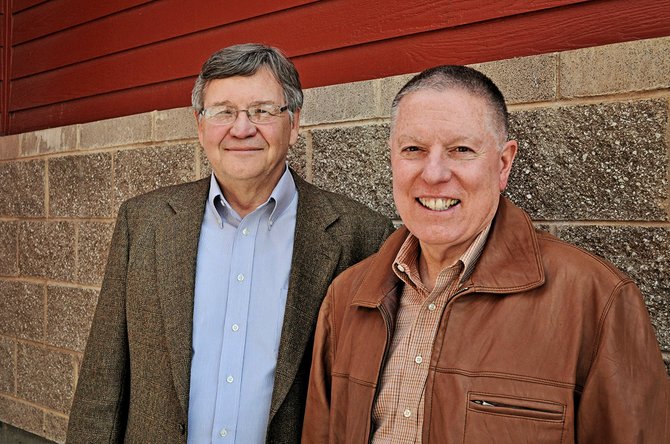 Photo by David Rauzi
Democratic candidates (L-R) for lieutenant governor, Bert Marley, and governor, A.J. Balukoff, stopped in Grangeville last Thursday, March 20, as part of a region-wide campaign tour.
GRANGEVILLE – Candidates for Idaho governor and lieutenant governor, A.J. Balukoff and Bert Marley, respectively, visited the region last week on a communities' listening tour.
"Education is the main reason that got me into this race," said Balukoff, who among his associations has served on the Boise School Board for 16 years and is currently its president. "It's important the state uphold uniform and thorough education throughout the state, which I don't believe we're currently doing."
"Kids in Grangeville and Kamiah should have the same education opportunities as those kids in Boise," he said.
Providing stable funding is one factor in providing this equity, and that was in place and had the consensus of stakeholders, superintendents and legislators until the tax shifts initiated by Governor Butch Otter in 2006. Since then, education funding has lost ground. Discussion needs to be re-initiated by those in this process, according to Balukoff, to restore that equity.
Economy and jobs are another issue for Balukoff, who noted Idaho is at the bottom per capita for income and number one in minimum wage jobs. Part of the solution here goes back to his concerns for education to improve vocational opportunities for kids.
"I got involved in this for the same reasons as A.J.," said Marley, who has gotten to know Balukoff very well: "I'm impressed with him professionally and personally," including, he said, his strong concern for state education and his determination to make improvements.
Mental health care is a concern for Idaho, especially in underserved rural areas, such as Idaho County. Balukoff, who worked in counseling children and parents at the Warm Springs Counseling Center in Boise, said, "The need for services is really apparent," that there is a lack of psychiatrists in the Idaho and also available access to their services. Marley tacked to this issue as it relates to children, such as the Idaho suicide rate, on school violence and bullying, and Balukoff added that when Governor Otter started cutting education, "the first to go were social workers."
"Early intervention in these mental health issues saves a lot of money and problems down the road," Balukoff said.
Along with their stop in Grangeville last Thursday, March 20, Balukoff and Marley made visits in Lewiston and Orofino as part of their statewide travels for the campaign. Information on their campaigns is online at www.ajforidaho.com and www.bertmarley.com .
Balukoff is running against Terry Kerr of Idaho Falls in the Democratic primary. Marley is unopposed in the primary and will face off against the winner in the Republican primary, which is between incumbent Brad Little of Emmett and Jim Chmelik of Cottonwood.