RIGGINS — Happy Mother's Day to all you mothers! Mothers are known to bring special happiness to the hearts of all who love them. Sunday, May 11, is the day you can show your mom your love with a card, a gift, a phone call, dinner, or just sitting and visiting with her. Never miss an opportunity to tell your mother how much you love her.
Support your Salmon River FFA Chapter tonight, May 7, at 7 p.m. at the Riggins Community Center at their annual banquet. The FFA Chapter is also sponsoring a family dance Saturday, May 10, from 8-10 p.m. at the Riggins Community Center. The family dance will be a great opportunity to support your local FFA and get a little dancing in as well.
Riggins Rodeo Parade results
First Place Theme Float – Salmon River Catering.
First Place Novelty Float – Happy Birthday Cowboy.
Judges Choice for Theme Float – Hubbard Ranch (with extended family of the Grand Marshals).
First Place Royalty – Asotin County Fair and Rodeo.
First Place under 18 – Local Cowgirls (Emily Diaz, Jesse Rupp, Madison Pottenger).
Youngest Cowboy – Jaxon Verbeck (3 years old).
Youngest Cowgirl - Kaylynn Merrill (1-1/2-2 years old).
Photo Gallery
Riggins Rodeo Parade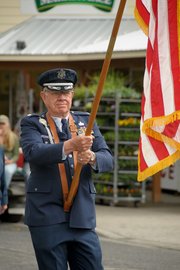 Riggins Rodeo Parade – in celebration of the 66th annual event – was held Sunday, May 4. Dozens of entries made their way up Main Street and over to the rodeo grounds.
The 66th Riggins Rodeo brought lots of cowboys and cowgirls, family and friends, and other visitors to town! Rodeo action was exciting filled with thrills and spills both days. The rodeo parade was short but great, filled with royalty, horses, floats, kids, adults and political candidates! See the sports page for details of winners in each rodeo event as well as the parade results.

Jack and Arlene Hubbard, Riggins Rodeo grand marshals, were honored at the rodeo each day before the rodeo started, as well as being honored in the parade. Their two children, Ken and Jeannette, as well as most of their grandchildren and great-grandchildren were here to help them celebrate! Their family even won "Best of Theme" with their Hubbard Ranch float. Jack and Arlene want to thank the Salmon River Cowboys Association, the people of the Salmon River canyon, and their family and friends for making their weekend so wonderful.

Gary Miller has been spotlighted as the community volunteer for the month of May. Gary is being recognized for his contributions to the Riggins community especially for donating hundreds of hours of time overseeing the renovations at the Riggins Community Center as well as donating professional time installing plumbing needs. Roy Aikins stated, "Nobody knows more about what happens above and below ground in Riggins than Gary!" Gary gives his professional and personal time and knowledge to make things work in Riggins. He has also been a member of the Salmon River Cowboys Association for 15 years and has donated many hours, energy and materials to that program. Kudos to you, Gary.
Savage Pride Day is Thursday, May 15. The Riggins city officials and city staff are proud of the accomplishments of all our Salmon River athletes. The Salmon River Booster Club urges everyone to "show your Savage Pride" and wear yellow and blue or get official gear at Gradient Shift including the new designs of "Back to Back" shirts to wear throughout the day.
The Salmon River Rural Fire Department annual meeting will be held at Hoot's in White Bird, Thursday, May 15, at 6 p.m. (PT), 7 p.m. (MT).
Hikin' for Healthy Hooters walk/run will be held Saturday, May 17, starting at the Little Salmon River Lodge at 10 a.m. followed by a free barbecue, the silent auction, and miscellaneous drawings for some rather nice prizes. The Pinehurst Quilters have another beautiful quilt to raffle which is currently on display at Pine Tree Credit Union. Anyone wanting to participate in Hikin' for Healthy Hooters on Saturday, May 17, in Riggins/Pollock can pick up Hikin' forms at the Somedays Discount Store adjacent to the tennis court on Main Street.
A graduation party for the Salmon River High School Seniors will be held at Summerville's in the downstairs room Saturday, May 17, at 6 p.m. (MT). Everyone is invited; it is potluck so bring a dish to share!
Open house at the new Riggins Community Center located behind Crump's Chevron will be held Sunday, May 18, from 1-4 p.m. Did you know there is an elevator in Riggins now? Go see it at the Riggins Community Center. Bring your "before" pictures and stories to share. Refreshments will be served.
A celebration of life for Wilma Hall, mother of Phyllis Seiber, will be held at the Assembly of God Church in Riggins Friday, May 23, at 11 a.m. with a lunch immediately following the service provided by Phyllis and Dave Sieber. Everyone is invited, especially Wilma's friends from church, pinochle, seniors, Knit Club, Quilt Club, Red Hat Society, American Legion Auxiliary and the Rebekahs, not to mention her friends at the stores, restaurants, bank and clinic. Wilma passed away on Feb. 25 in California at age 95. As Wilma used to walk through Riggins using her burgundy colored walker with the seat, she loved to look at everyone's flowers in their yards and was always cutting her roses at 225 N. Main Street in Riggins to give to her friends. If you have a few flowers in your yard, bring them to honor Wilma. We hope you can join us.
American Legion Post 130 in Riggins will hold its annual picnic in the Riggins City Park Sunday, June 29, at 2 p.m. The Pinehurst Quilters will once again be honoring more local veterans with Quilts of Valor by presenting quilts to as many veterans as possible at this picnic. Some of our ASK girls made two Quilts of Valor to be given to veterans.
Cloninger's Hells Canyon Marketplace, formerly Cloninger's Family Foods, has had a facelift and a new awning added to the front. Store manager Ryker Parmenter announced that the store's new distributor is Associated Foods. The store will continue to provide Riggins with topnotch groceries and other items. Read about this at: http://riversandmountains.biz/cloningers-in-riggins-changes-distributers-and-remodels-outside-of-market-p872-90.htm#sthash.jJT7utQD.gqtRMsup.dpuf.